Some good news at last—as many states have moved to open up their economies, new job ads took a large stride in the positive direction, with clear increases across most occupation groups.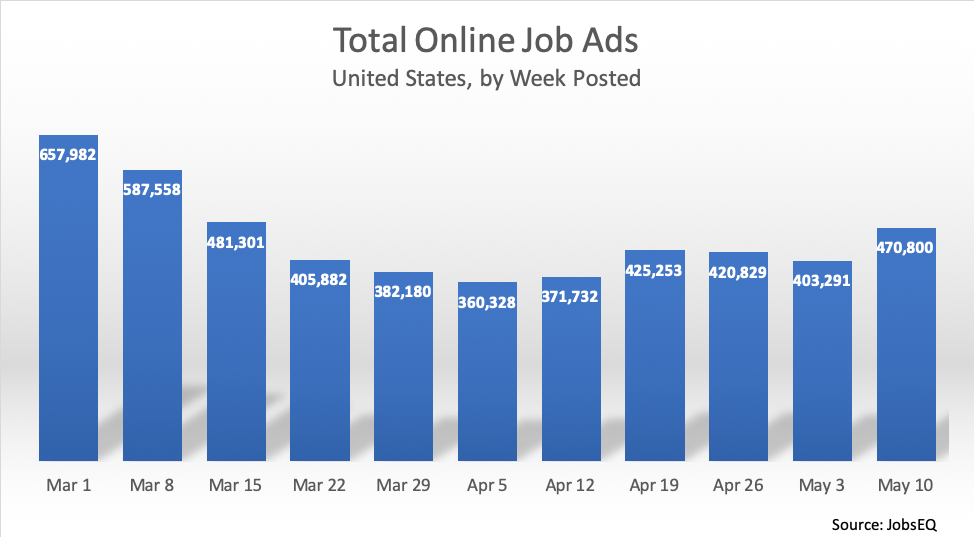 New weekly online job ads eclipsed 470,000 the second week of May, the highest volume in the past eight weeks. Before the coronavirus slowdown, ads were at 657,982 the week of March 1 and had plummeted to 360,328 the week of April 5. The latest volume in the week of May 10 represents a recapture of 37% of the March-to-April peak-to-trough decline.
Variation in Demand by Occupation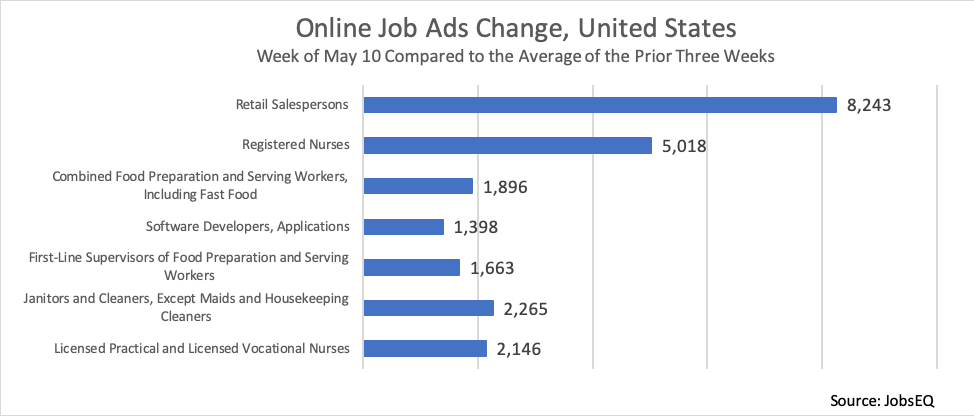 Some of the specific occupations with large increases in job ads the past week are shown above. Retail salespersons leads the expansions with growth of over 8,000 new ads this week compared to the average over the prior three weeks. Healthcare jobs also had a strong week May 10, represented by registered nurses (+5,018 ads) and licensed practical and licensed vocational nurses (+2,146 ads).
Food preparation and serving related jobs plummeted quickly to a trough at the end of March, but these jobs have been rebounding of late as typified in the above chart by combined food preparation and serving workers as well as first-line supervisors of food preparation and serving workers.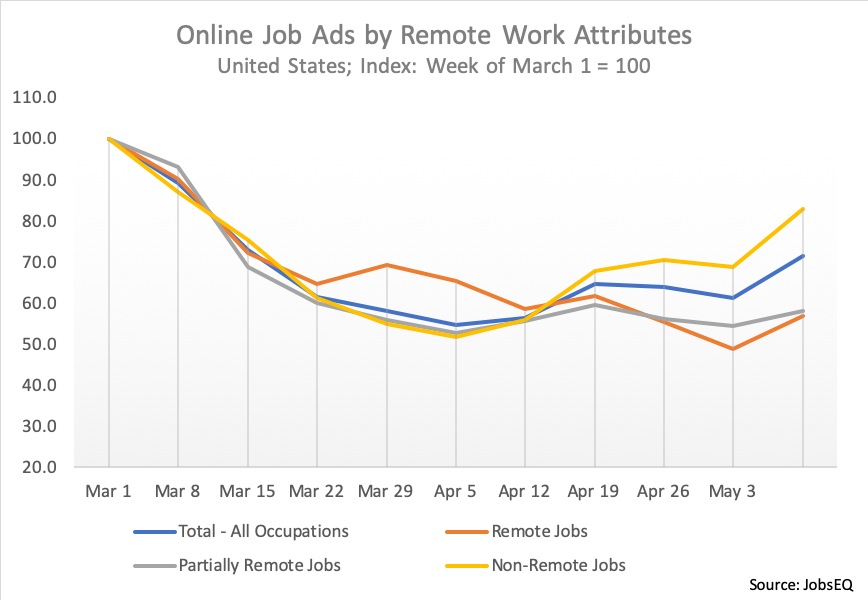 In an interesting trend, jobs that could not be worked remotely (i.e. not worked from home, but rather needed performance at the typical place of business)[1] have seen a stronger rebound the past several weeks. For example, the sectors of construction, manufacturing, retail, healthcare, accommodation, and food services, all heavily rely on jobs that cannot be worked remotely. While some of these positions were deemed critical and maintained continuous employment during the COVID-19 crisis, other such positions were those hit hardest by unemployment.
While these non-remote jobs were hit harder and deeper by declines in job ads earlier on, now we are seeing demand for these jobs rebound quicker. Conversely, jobs that typically can be performed from home were not hit as severely earlier in the downturn, but these jobs have not had a clear rebound, even posting a new trough in demand as recently as the first week of May.
About the Data
All data above are derived from JobsEQ, the Real-Time Intelligence online job ad data set, pulled from over 30,000 websites and updated daily. Historical volume is revised as additional data are made available and processed. Each week of ads is defined as new online ads that start between Sunday and the following Saturday, inclusive. All ad counts represent deduplicated figures. The relationship between ad counts and actual hires is described here.
Many extraneous factors can affect short-term volume of online job postings. Thus, while the changes noted above should be watched over time to confirm the impacts, such a short-term snapshot can offer an early indication of labor market shifts, especially valuable in this time of unprecedented economic disruption.
[1] We categorized occupations at the 6-digit SOC level into one of three groups: "Remote Jobs", "Partial Remote Jobs," and "Non-Remote Jobs" based upon characteristics of these occupations gathered from pre-COVID data sources. A blog will be soon forthcoming with more details about these occupations and their attributes.

This blog reflects Chmura staff assessments and opinions with the information available at the time the blog was written.