Job ads posted a two-week decline in the United States, driven by a downturn among white collar positions.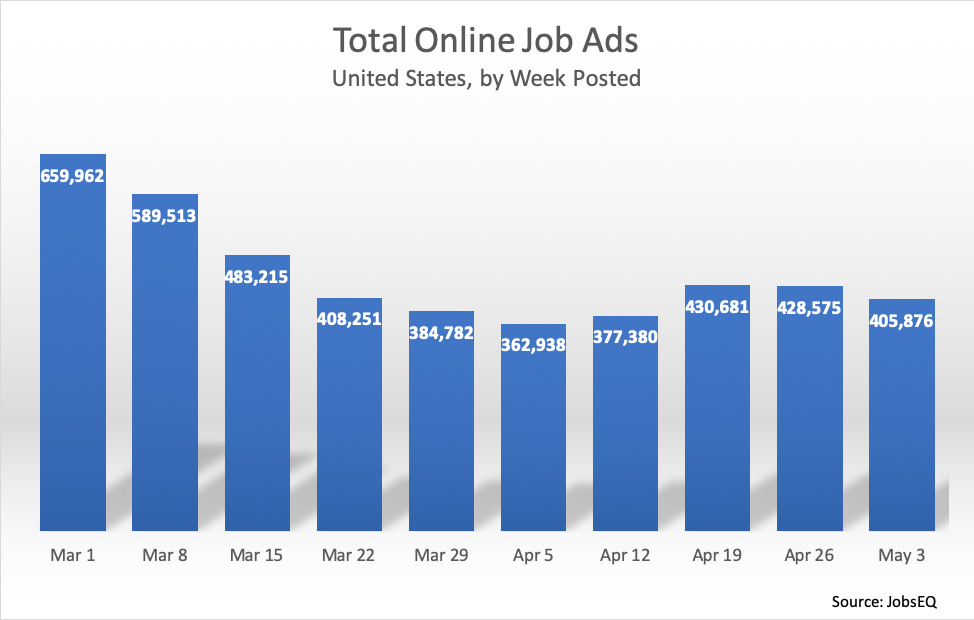 New weekly online job ads reached a trough in the week of April 5. Though rising the subsequent two weeks, ads turned downward again, posting declines in the last week of April as well as the first week of May. With close to 406,000 new ads in the week of May 3, weekly volume was about 39% lower than volume at the beginning of March before the coronavirus-induced downturn began.
Variation in Demand by Occupation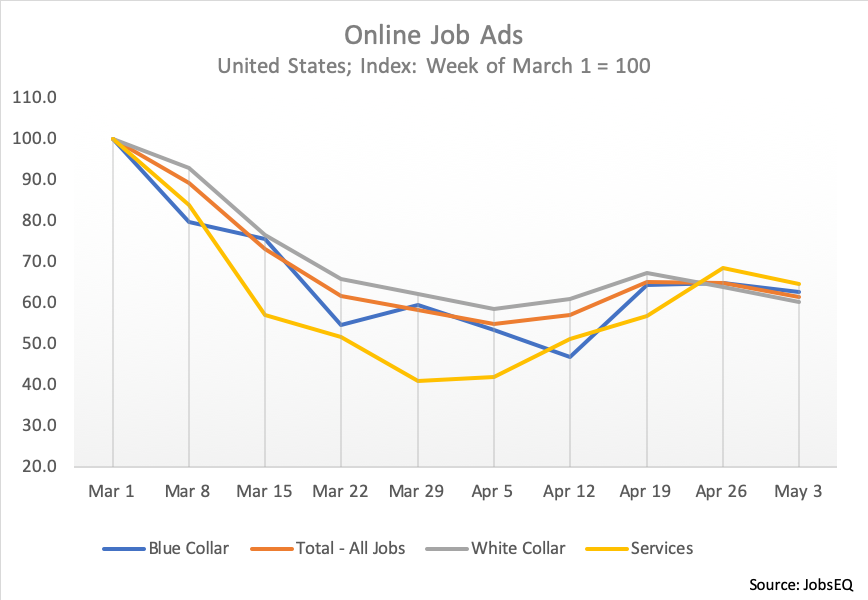 Through the first seven weeks of the coronavirus slowdown, white collar[1] jobs fared better than average. Though ads for white collar positions were down, these job postings did not decline as sharply as for other groups. This changed the last two weeks, with white collar jobs slipping below average for new job postings.
Contributing to the white collar downturn was a record low performance among computer and mathematical occupations. While these jobs had been faring notably better than average, declines the last two weeks took computer and mathematical occupations to a new low, about 35,000 new ads in the week of May 3, roughly half the new ad volume this group had the first week of March.
Among blue collar jobs, production and construction occupations have been slowly improving. Production and construction jobs each reached a trough in the week of April 5 but expanded every week since, even though they still remain below their pre-crisis peaks.
About the Data
All data above are derived from JobsEQ, the Real-Time Intelligence online job ad data set, pulled from over 30,000 websites and updated daily. Historical volume is revised as additional data are made available and processed. Each week of ads is defined as new online ads that start between Sunday and the following Saturday, inclusive. All ad counts represent deduplicated figures. The relationship between ad counts and actual hires is described here.
Many extraneous factors can affect short-term volume of online job postings. Thus, while the changes noted above should be watched over time to confirm the impacts, such a short-term snapshot can offer an early indication of labor market shifts, especially valuable in this time of unprecedented economic disruption.
[1] White collar jobs are defined as those in the 2-digit SOC groups of 11 through 29 and 41 through 43. Blue collar is defined as encompassing SOC 45 through 53. The remaining SOC groups are defined to be in the Services category.

This blog reflects Chmura staff assessments and opinions with the information available at the time the blog was written.