New job postings have continued to decline as the coronavirus crisis has extended. Occupations have clearly been affected differently, with very few showing overall growth.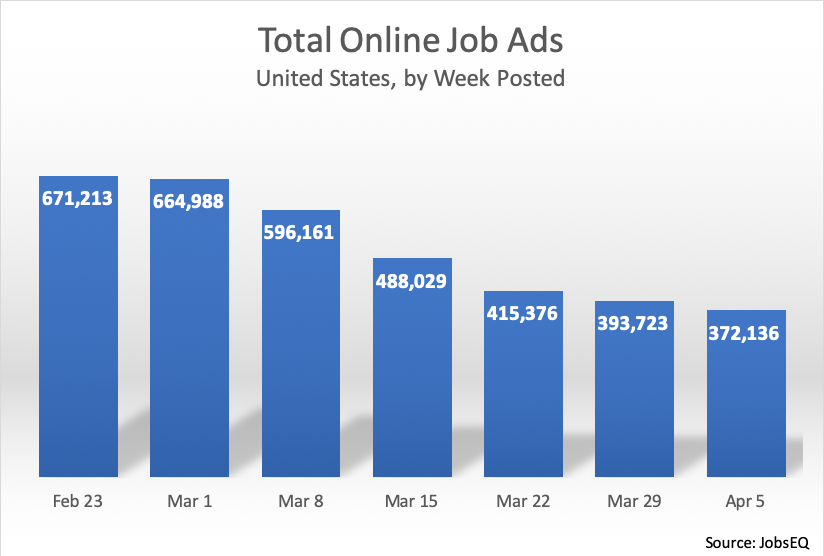 As March has given way to April, ad volume in the United States has continued to drop. The rate of decline in job ad volume has slowed compared to early March, but the weekly contractions have continued unabated. For the two-week period beginning March 29, online ads were down 43% compared to the two weeks beginning February 23.
Variation in Demand by Occupation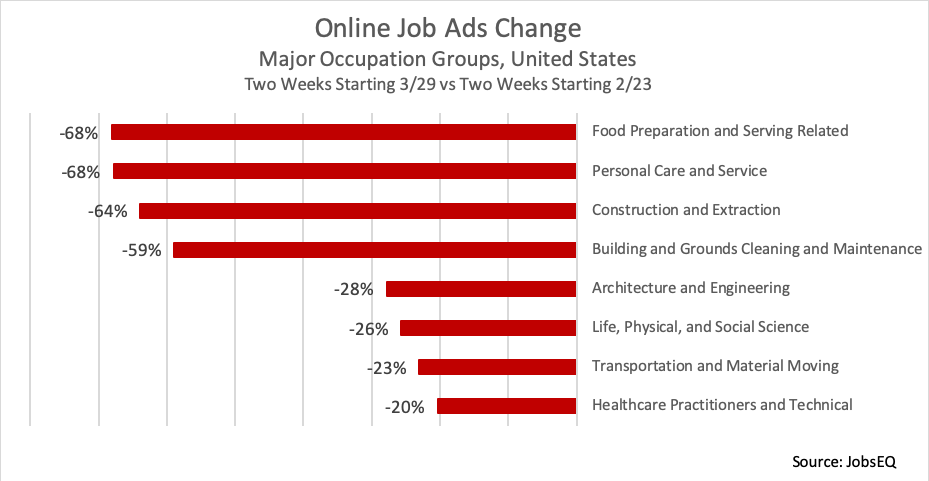 Occupations in food services and personal care and service have been hit hardest during the coronavirus outbreak. Construction and extraction jobs as well as building and grounds cleaning and maintenance have also seen above average declines.
On the more mild side, healthcare positions and those in transportation and material moving have fared better. These groups contain some of the few detailed occupations that have seen increases over this time period, such as driver/sales workers, critical care nurses, and respiratory therapists.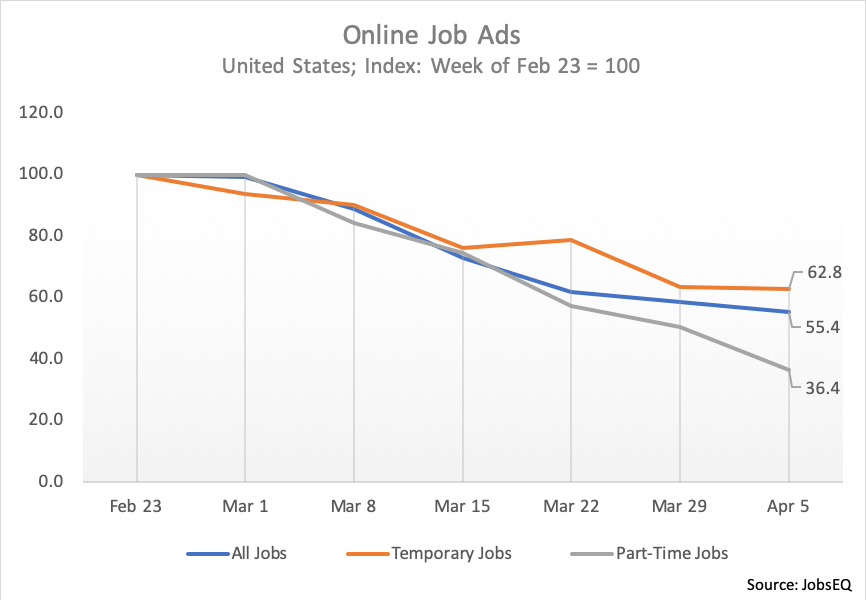 In other trends, new ads for part-time jobs have declined faster than overall, contracting 64% from the week of February 23 through the week of April 5. Overall job ads fell 45% during the same period, and temporary jobs fared slightly better, declining 37%.
About the Data
All data above are derived from JobsEQ by Chmura, the Real-Time Intelligence online job ad data set, pulled from over 30,000 websites and updated daily. Historical volume is revised as additional data are made available and processed. Each week of ads is defined as new online ads that start between Sunday and the following Saturday, inclusive. All ad counts represent deduplicated figures. The relationship between ad counts and actual hires is described here.
Many extraneous factors can affect short-term volume of online job postings. Thus, while the changes noted above should be watched over time to confirm the impacts, such a short-term snapshot can offer an early indication of labor market shifts, especially valuable in this time of unprecedented economic disruption.

This blog reflects Chmura staff assessments and opinions with the information available at the time the blog was written.