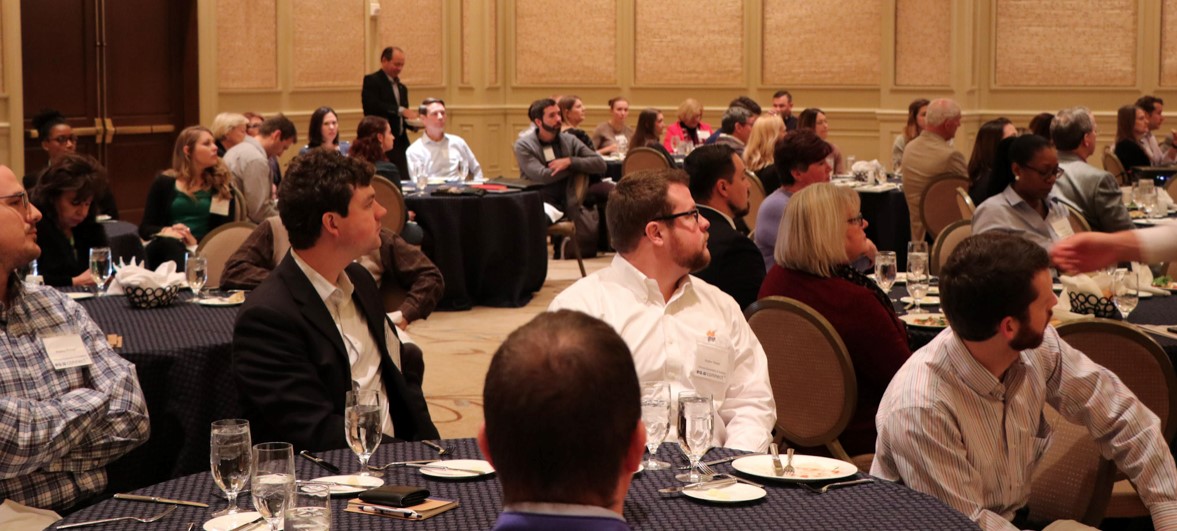 The EQ Connect 18 conference was a success on many levels. From the speakers, to the attendees getting JobsEQ FIT certified, to the Salamander Resort, we had numerous epiphanies. The unexpected snow was the biggest epiphany of them all! Yes, Virginia, there are still epiphanies! As a special treat, Reilly, the Chief Data Dog, was available throughout the conference for selfies with our attendees! It was quite the social media hit!

Labor: Top Shelf Concerns for Businesses
Kicking off the conference was Scott Kupperman of Kupperman Location Services. As our keynote speaker, Scott shared what is important to his clients as a site selection consultant in the food and beverage industry. Scott took us on a journey to understand how communities can stand out and differentiate themselves from other regions. To that end, labor is at the top of the filters for regional elimination. Scott is a big fan of JobsEQ and his clients are household brands that have confidence in the JobsEQ platform.
Whose Job is Safe?
Nicole Smith, PhD, is a Research Professor and Chief Economist at the Georgetown University Center on Education and Workforce. Nicole's research on job shifts gave the attendees some interesting insights into the world of automation. She spoke to the hollowing out of middle-skilled jobs. Nicole foresees a shift away from the routine and manual occupations toward analytical and interpersonal skills playing a more significant role in work.
Where to Fish and the Hunted
Patrick Barker of Frederick County, Virginia spoke to using JobsEQ to make data-driven decisions from multiple perspectives. Employers: who is hiring? The value of Real-Time Intelligence: what types of certifications do employers need? Site-selection consultants: proof the local labor market has the needed skilled labor. Economic developers: applying the supply chain analytic to know what cash we are missing out on!
JobsEQ + CoStar Data Working Together
Spiros Balntas, CEcD of Montgomery County, Maryland showed us how to use CoStar Maps and JobsEQ Maps for targeting prospects. His innovative insights into how to make maps work for regional economic developers allow Spiros and Montgomery County to show both available buildings and offices alongside available labor.
JobsEQ in the Field: Nestle, Public Schools, and More
Dave Remeck of the Alexandria/Arlington Regional Workforce Council demonstrated how the workforce system applies JobsEQ data in prospective firm presentations, such as the winning proposal for Nestle in the Northern Virginia region. The business services team uses JobsEQ as a sales tool, and by using the RTI dashboard to understand which companies are hiring, his organization is better streamlined to target the top 200 companies. Dave spoke to the effectiveness of intertwining high school curriculum with soft skills and the impacts on the region from the Academy of Health Sciences initiative. JobsEQ makes his outcomes more strategic.

Overview of the National Economy

Dr. Christine Chmura is the CEO and Chief Economist at Chmura. She and her business partner, Leslie Peterson, developed the original version of JobsEQ, applied for its first patent, and have guided development since. In her national economic outlook, Chris talked about how expansions don't die of old age. She expects the economy to continue to expand at least through July 2019, which will make the current economic expansion the longest on record. Good news! Household debt is declining, and ending on a high note, Chris said, "people, not industries, are regions' most important asset."

Applying Economic Development Data in the Atlanta Area
Christina DeGiulio is a Principal Planner in Research and Analytics for the Atlanta Regional Commission (ARC). ARC is a 10-county region and the need for comprehensive labor data is imperative to their planning efforts. Christina featured how she uses the U-6 employment rate along with Chmura's underemployment methodology to get keen insights into available labor. The 'What-if' report is one of her favorite analytics in JobsEQ!
RTI—How to Apply it Within the Context of Other Analytics in JobsEQ
Patrick Clapp, an economist at Chmura, is a member of Chmura's chat team. He has also worked within the IT department on some of the fundamentals of RTI. Patrick presented some of the challenges of using unstructured data and how those challenges influence interpreting the data for labor market analysis. He wrapped up the presentation with demonstrations of finding and using RTI data in JobsEQ and several real-world applications.
Can Education Pivot?
Jim Fong spoke about how education is responding and failing to respond to technology. As the lead consultant with UPCEA, Jim is on the leading edge of how education anticipates and prepares for the changing economy and the impact on the education and training ecosystem. Bachelor's degrees are losing value to millennials, in part, because experience matters. Jim spoke to the major forces impacting higher education today, specifically: (1) unfavorable or changing demographics, (2) greater educational choice, (3) changing economies and ecosystems, and (4) new relationships and partnerships.

Multinationals at the Cross-Roads: Challenges and Opportunities in the Global Automobile Sector
David Trebing, General Manager – State and Local Relations for Daimler, provided an overview of trends in the automobile sector. He also discussed how the economic development community can help the dialogue rather than simply be a beneficiary or a casualty. The number one question Daimler faces is labor—they can't build a vehicle without workers. "Economic incentives do not make a bad decision good," David said early in his talk.
Takeaways for the economic development community included: (1) ask for a workforce with critical-thinking skills; (2) consider Germany's competitive vocational training program as a model; (3) pay workers to go through training and curriculum that reduces the skills gap at the local level; (4) work with community colleges to change curriculum to align with employers' needs.

Outcome Improvement: Building Communities of Practice
Jane Kusiak, Engagement Specialist with Chmura, spoke about how important initiatives for economic prosperity are outcome-based at the community level. Jane gave the audience three case studies: recidivism, infant mortality, and land preservation. She gave examples of indicators, benchmarks, how to set realistic targets, and the value of scorecards and dashboards to measure and monitor progress over time. In preparation for this conversation at the conference, she interviewed users from economic development, education, and workforce. The takeaways included: (1) building communities of practice is not easy and requires practitioners to keep the issue relevant, and the outcomes measurable; (2) dashboards such as JobsEQ shine lights on the relevant issues; (3) only add metrics that you have the resources to monitor over time; and (4) people at every level of your initiative are important.
The Growing Importance of Workforce in Location Decisions
Didi Caldwell, founding principal of Global Location Strategies, shared how JobsEQ enables GLS to help their clients identify the right site. Increasingly, her work involves foreign direct investment (FDI)—to date, GLS has brought $5.6 billion in FDI to the United States. She distinguished between capital-intensive and labor-driven decisions, the importance of workforce assessment and labor availability, and some best practices she has seen working with regions across the country to attract non-U.S. companies.
Middle Office Jobs: An Economic Development Strategy
Barry Matherly, Executive Director for the Greater Richmond Partnership (GRP) and former Chair of the International Economic Development Council (IEDC), presented some research around the middle office workforce and potential applications. Research prepared for GRP by Wadley Donovan Gutshaw Consulting described what makes an area like Richmond an excellent location to establish middle office operations.
A One-Time Airways Auction
Curtis Monk, Director of Sales with Chmura, gave a fascinating overview of the unique, one-time auction of airways by the Federal Communications Commission. It was an interesting process to learn about the demand for bandwidth by television stations and internet companies across the nation, the finite supply of bandwidth, and the day-to-day decision making of a public broadcasting station participating in the auction.
Wrapping Up EQ Connect 18
Attendees heard a summary of all the speakers' presentations from Leslie Peterson and were asked to put their three top epiphanies on post-it notes. We categorized them into common themes and closed out the conference already looking forward to using what we learned and returning next year.
JobsEQ Certification Completers
As a final note, congratulations to everyone who completed their JobsEQ Certification at the conference this year! Pictured here with Chris Chmura is JobsEQ-certified Dr. Marilyn Young. Marilyn completed her certification while attending EQ Connect 18. She is a Hibbs Fellow with the Hibbs Institute for Business & Economic Research at the University of Texas at Tyler.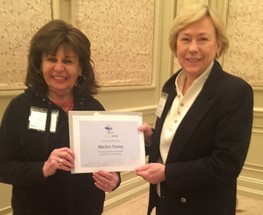 Become a more expert user of the data and features of JobsEQ. Become "JobsEQ Certified" and bring added value to your organization. Read more about the JobsEQ FIT Certification.
Announcement: The EQ Connect 19 Conference will be in Orlando, FL! Same time frame! Put it on your calendar and get it into your budget!
This blog reflects Chmura staff assessments and opinions with the information available at the time the blog was written.