More employers are requiring that new employees be vaccinated.[1] While many of these requirements are very recent developments, job ads over the past several months illustrate the beginning of this trend.
Job Ad Evidence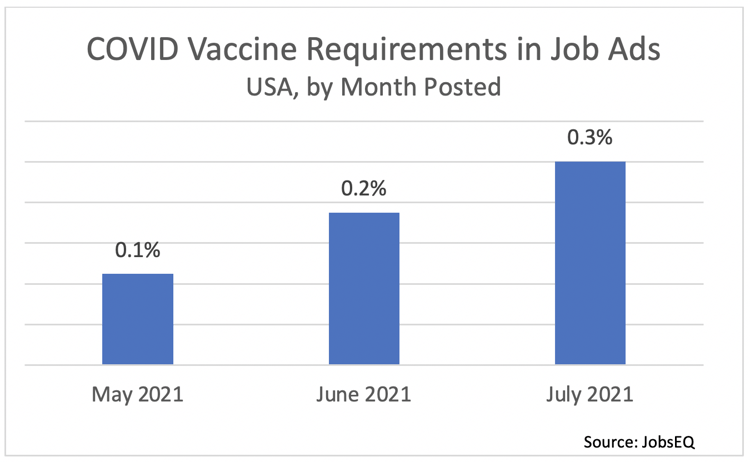 The percentage of ads explicitly listing COVID vaccination as a job requirement has been low, less than one percent of all ads. The percentage, though, has been steadily growing as seen on the above chart. For online job ads posted in the month of July, about 0.3% had a requirement for COVID vaccination. The trend has continued into August; at the time of this writing, the percentage of ads in the beginning of August with vaccination requirements rose to 0.4%.
It should be noted that these numbers can be understated by companies who have this requirement but have not listed it in their job ads. For example, the requirement is reflected in ads from Tyson Foods and Ascension Health but, as of this writing, not yet in ads from Google which is requiring vaccinations of employees working at company offices.
Some occupations are more likely to encounter vaccination requirements while others are less likely. In job ads from July, for example, COVID vaccine requirements were most prevalent among personal care and service occupations, especially among nannies, childcare workers, and recreation workers. The vaccine requirement was also more common among healthcare support workers, a group that includes nursing assistants and personal care aides. Vaccine requirements were less likely to be found among the four occupation groups[2] of computer and mathematical; sales and related; construction and exaction; and transportation and material moving occupations.
About the Data
All job postings data above are derived from JobsEQ, the Real-Time Intelligence online job ad data set, pulled from over 40,000 websites and updated daily. Historical volume is revised as additional data are made available and processed. Each month of ads is defined as new online ads that first appeared in that month. All ad counts represent deduplicated figures. The relationship between ad counts and actual hires is described here.
For identifying ads with COVID vaccine requirements, we used a series of positive and negative keyword search terms.[3] A method such as this may result in false positives as well as false negatives. Nevertheless, quality checks indicated the data results were approximately accurate and reliable indicators of market activity as presented above.
Research assistance for this post was provided by Andrew DeSantis.
[1] For example, see a list of employers and requirements in this August 4 news article: https://www.cnn.com/2021/07/28/business/companies-vaccine-mandate/index.html.
[2] "Occupation groups" refers to 2-digit SOC codes.
[3] Ads included, for example, had phrases such as "COVID vaccinated" OR "proof of COVID vaccination".
This blog reflects Chmura staff assessments and opinions with the information available at the time the blog was written.