In a sign that the economy is on the mend, counts of new online job ads in March 2021 rose to levels not seen since January 2020. Significant variation remains, however, in the recovery for some occupations. Remote hiring trends have also emerged, adding a further dimension to the job market.
The Overall Market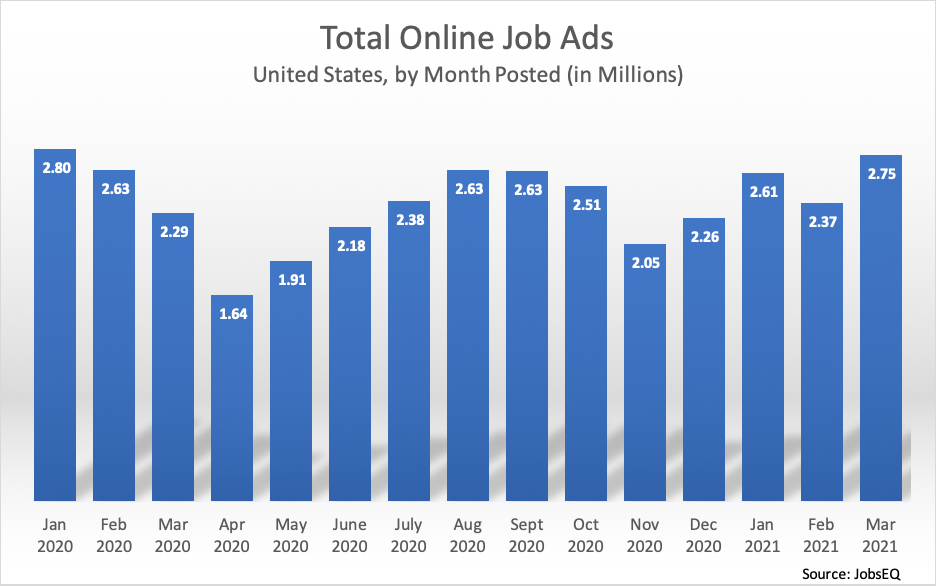 New online job ads climbed to 2.75 million in March 2021, the highest monthly volume since 2.80 million ads were posted in January 2020. After reaching a trough in April 2020, new job ads increased steadily to a relative peak in late summer 2020. Ad volume pulled back in the fall, however, before posting a first quarter in 2021 that rivals the overall new ad volume in the first quarter of 2020.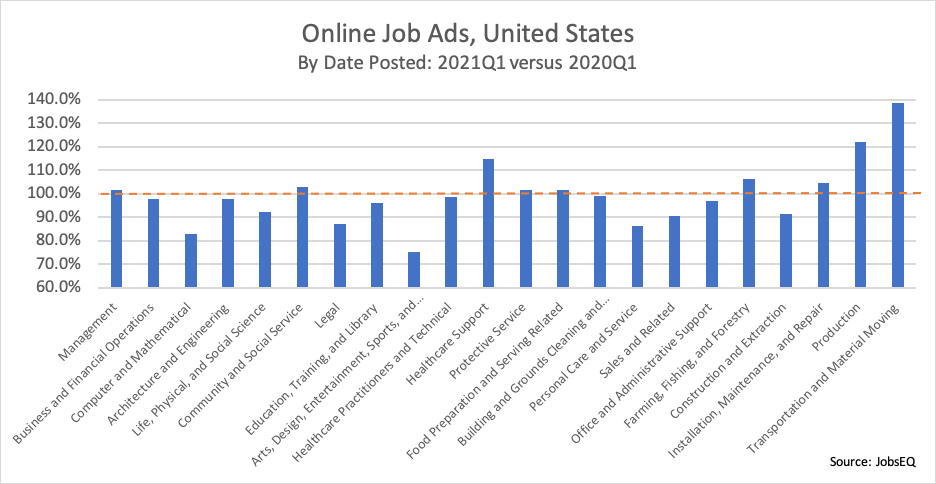 Not all occupations have seen a similar return to prior levels of new job ad activity. For some occupations groups—transportation and material moving, production, and healthcare support—the number of job ads in 2021Q1 easily surpass the volume of a year earlier. On the other hand, computer and mathematical; personal care and service; and arts, design, entertainment, sports, and media are lagging the amount of new job ad activity these groups experienced in the beginning of 2020.
Detailed occupations with higher job ad volume in the first quarter of 2021 compared to a year earlier include many blue-collar occupations such as stockers and order fillers; laborers and freight, stock, and material movers, hand; and production workers, all other. Some white collar and service occupations have seen increases as well, such as pharmacy technicians, personal care aides, and registered nurses.
Remote Work
A trend over the past year has been the rise in remote work. We've detailed in prior blogs a description of those occupations most appropriate to be remote as well as which jobs were posted as remote in job ads in the first half of 2020. We've also noted previously that there was a decline in the number of quits last year, especially in certain white collar industries, as more workers stayed with their current employer during the lockdown.
Now, however, some are expecting a "turnover tsunami" once the pandemic ends. While some of the turnover may simply be pent-up demand, the ability to work remotely also appears to be a contributing factor. One survey found that 34% of workers planning on looking for work want to find a job where they can work remotely compared to 18% of their peers.[1] The same survey found that 87% of workers who have been working remotely during the pandemic want to continue working remotely at least one day per week once the pandemic subsides.[2]
Top Occupations with Remote Work Jobs Ads

SOC
Occupation
Jan/Feb 2021
Jan/Feb 2020
Growth Rate in Remote
% of All Ads (Jan/Feb 2021)
15-1252.00
Software Developers
29,428
8,519
245%
26%
43-4051.00
Customer Service Representatives
17,877
4,070
339%
19%
15-1232.00
Computer User Support Specialists
16,271
12,101
34%
22%
41-3091.00
Sales Representatives of Services, Except Advertising, Insurance, Financial Services, and Travel
15,802
11,143
42%
15%
13-1111.00
Management Analysts
11,662
3,489
234%
16%
11-2021.00
Marketing Managers
10,581
2,764
283%
19%
15-1244.00
Network and Computer Systems Administrators
8,821
5,518
60%
18%
15-1299.08
Computer Systems Engineers/ Architects
7,693
3,421
125%
23%
Source: Chmura and JobsEQ by Chmura
The desire to work remotely appears to be especially strong among tech workers, and this is in sync with the job ads data. In the above table, four of the top eight occupations being advertised as remote positions were in computer-related occupations (see "About the Data" below for a description of the methodology).
In comparing the two months before the pandemic lockdowns occurred (January and February 2020) to the same months one year later, the number of job ads for remote positions more than doubled. This growth was stronger among white collar jobs, especially the occupation groups of computer and mathematical, business and financial operations, and management. Certain sales positions (sales representatives of services) and support services that can be offered remotely (customer service representatives) also number among the occupations more predominantly found in job ads for remote work.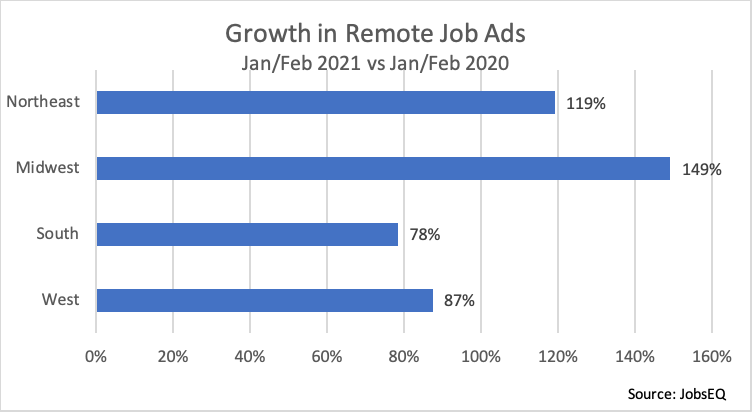 Interestingly, the data show a variation in remote job ads according to the region of the country. The Midwest has recorded the most growth in remote job ads whereas the states in the South and West have posted growth, though at a slower pace. The impact of remote work on long-term population distribution is yet to be clear, but we've already seen dramatic population shifts in 2020 from state-to-state as well as out of urban neighborhoods. As the National Association of Realtors reported[3] in December: "While teleworking may continue long after the pandemic, it is obvious that far fewer people are moving for job-related reasons during the pandemic than they used to pre-pandemic."
About the Data
All job postings data above are derived from JobsEQ, the Real-Time Intelligence online job ad data set, pulled from over 40,000 websites and updated daily. Historical volume is revised as additional data are made available and processed. Each month of ads is defined as new online ads that first appeared in that month. All ad counts represent deduplicated figures. The relationship between ad counts and actual hires is described here.
Many extraneous factors can affect short-term volume of online job postings. Thus, while the changes noted above should be watched over time to confirm the impacts, such a short-term snapshot can offer an early indication of labor market shifts, especially valuable in this time of unprecedented economic disruption.
For analyzing "remote job" positions, we took two approaches. The first approach was using a keyword analysis, similar to but further refined than the approach described here. The second approach was to use the location field of the job ad. Most ads specify the location of work as a geographic place, such as "Phoenix, AZ.", but in some instances there was no geographic location specified, but some designation indicating that the job was able to be performed remotely rather than at a specific geography. Job ads from both approaches were included in our analysis of which occupations saw the most remote ad growth over the past year. This second type of remote jobs (without a geographic location) was of necessity omitted from the analysis of remote ad growth in the various regions of the country—for that analysis, only ads were used that provided a primary geographic place of business. While further distinctions in these remote jobs are possible—such as permanently remote, temporarily remote, or partially remote—all of these variations were included within our definition of "remote ads" for purposes of this blog. Finally, please note that only job ads that were explicitly designated in text as being remote were captured by this analysis.
[1] In addition, 42% of current remote workers stated if their current company doesn't continue to offer remote-work options long-term, they will look for a job at a company that does. Per Prudential's Pulse of the American Worker Survey conducted by Morning Consult, March 2021.
[2] Prudential's Pulse of the American Worker Survey conducted by Morning Consult, March 2021.
[3] https://www.nar.realtor/blogs/economists-outlook/8-9-million-people-relocated-since-the-beginning-of-the-pandemic
This blog reflects Chmura staff assessments and opinions with the information available at the time the blog was written.