A 2019 survey by the Pew Research Center found that 45% of veterans would say that "the military prepared them 'not well at all' or 'not too well' for the transition to civilian life."[1] A major aspect of the transition to civilian life for veterans is the change from a military career to a civilian one. The transition to a civilian career for veterans can be daunting, but the data indicate that veterans have a desirable place in the civilian workforce, with in-demand skills, lower unemployment rates, and often higher earnings than other civilian workers.
One of the reasons veterans feel ill-prepared for the civilian life is the different requirements of civilian employment. Since the military does not require resumes, many veterans have never created one. Indeed, some veterans have never even looked for a job outside of the military.[2] Within their respective civilian jobs, veterans have to learn how to communicate and work with people who don't have the shared military experience that they can relate to.[3]
The transition to civilian careers for veterans can be a difficult one, but as a result of their military careers, veterans have a plethora of marketable skills which make them a valuable asset for many occupations. Adaptability, leadership, ability to work in a fast paced environment, and team player skills are just a few qualities that employers seek and nearly all veterans possess.[4] As shown in the table below, adaptability is listed on over 800,000 active job ads as of July 21, 2021, leadership on over 300,000 ads, ability to work in a fast paced environment on over 600,000 ads, and team player on over 1.6 million active job ads.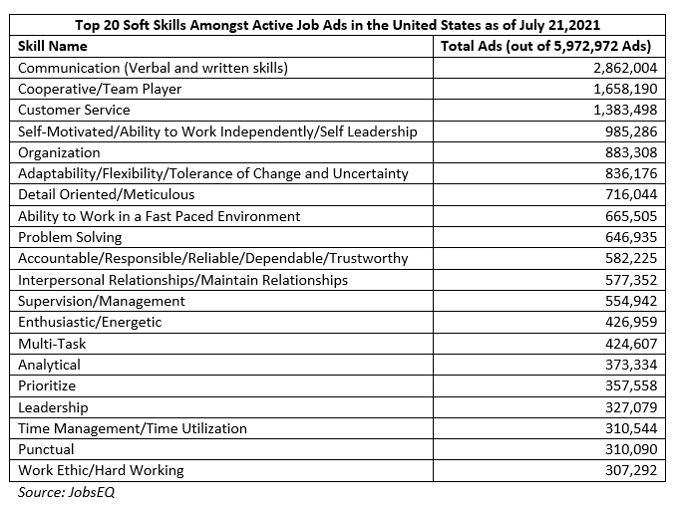 The military also offers veterans hard skills that can be difficult to come by in the civilian workforce. Many veterans find work in construction, due to teamwork and fitness qualities, and manufacturing, based on experience working on equipment or vehicle repair. Truck driving and transportation is another common occupation for veterans as multiple ex-military personnel have experience working long and odd hours and have proven capable of the stamina required to endure those hours.
As shown in the table below, there is a high concentration of veterans in manufacturing, professional and business services, and federal government. The physical fitness of veterans also makes them great candidates for a career as a first responder, such as a police officer or firefighter (which primarily fall under local government in the table below). Federal government positions are particularly relevant for veterans as they have already been immersed in governmental protocol and have spent part of their careers defending the government.[5] This sector accounts for 11.4% of all veteran employment, compared with 2.2% for all non-veteran employment.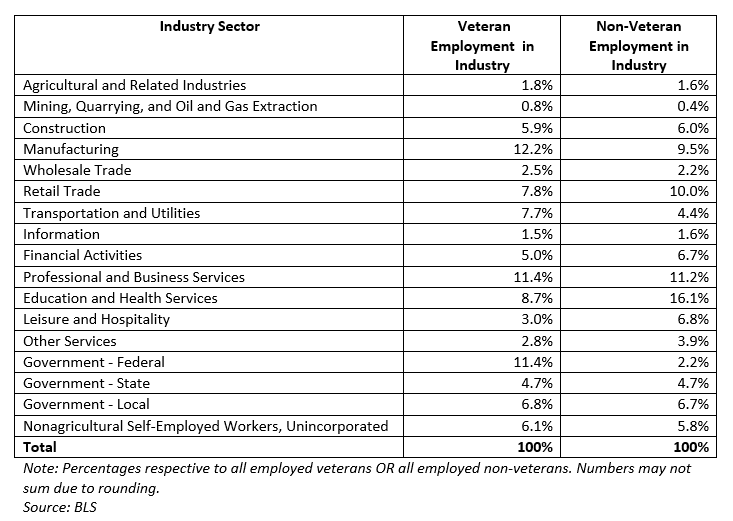 Employment outcomes support the need for the kinds of skills veterans can provide—veterans faced an annual average unemployment rate of 6.5% in 2020, compared with an overall average unemployment rate of 8.0% in the nation.[6] Of course, the pandemic impacted veteran unemployment, increasing the veteran average unemployment rate two-fold from 3.1% in 2019 to the aforementioned 6.5% in 2020.[7] Further, in these jobs, veteran's wages are about $10,000 more annually than their civilian counterparts.[8]
Despite having to learn the civilian culture, veterans continue to overcome obstacles and create value for any occupation that they fill. Their military experience gives them a variety of skills that set them apart from non-veterans. Employers seek out veterans for these skills, and veterans find work in a range of occupations making use of these skills.
For more information regarding veteran employment, please refer to How to Find a Job For a Veteran: 10 Questions You Need to Ask for tips on applying labor market information and finding jobs after the military.
[1] https://www.pewresearch.org/fact-tank/2019/11/07/key-findings-about-americas-military-veterans/
[2] https://www.va.gov/vetsinworkplace/docs/em_challengesreadjust.asp
[3] https://lagunatreatment.com/va-mission-act/military-to-civilian-transition-challenges/
[4] https://www.military.com/hiring-veterans/resources/10-reasons-to-hire-vets.html
[5] https://recruitmilitary.com/job-seekers/resource/1043-best-jobs-for-veterans
[6] https://www.bls.gov/news.release/pdf/vet.pdf
[7] https://www.dol.gov/agencies/vets/newsletter
[8] https://www.hillandponton.com/veteran-civilian-pay-statistics/
This blog reflects Chmura staff assessments and opinions with the information available at the time the blog was written.