East Montgomery County Improvement District (EMCID), a taxing authority located northeast of Houston, Texas, was created with the mission to encourage economic development and promote educational opportunities within the region. EMCID strives to boost economic growth and development by creating opportunities for their residents, through recruiting new business to the region.
EMCID makes strong claims about the potential of their region to recruit companies, and they are tasked with backing up these statements with data. To validate their claims, EMCID seeks independent, third-party consultants to provide unbiased reports and help them tell their story through data.
Using Chmura Consulting to Communicate the Strength of their Workforce
Frank McCrady, President and CEO of EMCID, has engaged Chmura consulting for more than five years, primarily for labor studies to describe the talent availability within the region. Detailed labor information is necessary to help companies make good decisions when contemplating expansions and relocations, and while EMCID performs internal studies, they utilize Chmura to ensure a degree of separation with these analyses. When considering an expansion or relocation, tight labor markets and low unemployment rates may prompt some worries regarding labor availability within a region, but having a clear picture of the region's talent pool can dispel such fears.

To alleviate concerns from EMCID's potential investors, Chmura's detailed reports prepare a variety of key data points to paint a comprehensive picture of the region, including factors such as annual average population growth, median population age, labor force participation rates, worker availability, wage competitiveness, and more.

Chmura recently completed a warehousing and storage facility labor study of New Caney, Texas, the proposed location of a new facility within the EMCID region and considered a 45-minute drivetime from the facility's location. In this report, Chmura consultants analyzed specific occupations including industrial occupations, technical and administrative roles, and other positions required in a warehousing and storage facility. The consulting team measured how many employees would be needed for each occupation and compared these numbers to the available potential candidates in the region. The report demonstrated "ample" labor availability in the region, defined as having 50 or more potential candidates for each employee needed for every occupation in the facility.

The report also included detailed information on wages. For each occupation needed in the facility, the average annual wage of the region was compared to that of the Houston MSA, the state of Texas, and the United States.
Chmura consultants analyzed the New Caney labor shed's estimated payroll in comparison to the greater Houston metro area, considering typical staffing patterns and local average wages. Factoring in other variables, the consultants also considered cost of living, union activity and wage growth trends to accurately understand payroll and wage pressures. They found that the New Caney relative wages in the warehousing and storage industry have fallen from 6% more than the national average in 2010 to 1% less than the national average in 2022. This declining wage pressure relative to national levels made the New Caney region especially attractive to potential firms.

McCrady confirmed that these data allow EMCID to "highlight the strength of their labor pool" and market the region, including the recently constructed industrial park, to potential tenants. By providing a clear description of the labor shed, EMCID can affirm that the necessary workforce is present for potential expansions to the region.
Promoting the East Montgomery County Industrial Park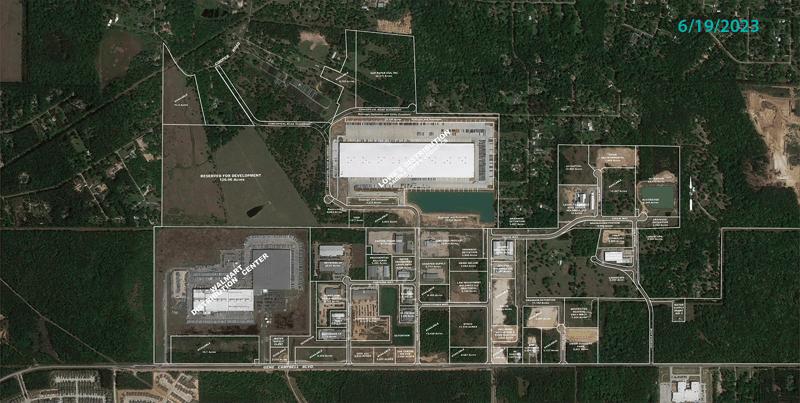 The 800-acre industrial park, situated 25 minutes northeast of downtown Houston, is already home to several companies, with additional space for development available. A major focus of EMCID is the recruitment of additional companies to the park, which will allow for increased employment opportunities for residents of the region.

The data provided by Chmura consulting is helpful in attracting interest in the industrial park. McCrady states that these reports have been a "great tool to put in front of clients," citing additional value in recruiting international companies. McCrady believes that some of these international clients "don't necessarily know how to approach many of the questions they need answered to ensure a successful expansion to the region," but Chmura's reports provide clear, quantifiable data to validate EMCID's pitch.

McCrady attributes some of the organization's success to their work with Chmura consulting. Several recognizable companies have successfully opened operations within the industrial park, including Command Energy, Keysteel, Presidential Billiards, Wal-Mart, and more. Chmura's reports proved the strength of the region's workforce to these companies and influenced the decision to expand to the EMCID region.
The Chmura Difference
While the EMCID team has utilized other consultants before, McCrady states that Chmura consulting's level of professionalism makes the team stand out, citing that their work "is timely and transparent, and a great product is produced." Chmura's third-party expertise and high-quality data enable EMCID to market key characteristics of their region and reach their development goals.

Chmura is proud to partner with organizations like EMCID, who utilize our consulting services to attract new businesses to transform their communities for the better. If you would like to learn how our economists can help you tell the story your region's workforce with data, contact us today. We'd love to talk to you.

.
This blog reflects Chmura staff assessments and opinions with the information available at the time the blog was written.