The Problem: How Do We Diversify Baldwin County's Economy?
Baldwin County Economic Development Alliance is dedicated to growing and improving the economy in Baldwin County, the fastest-growing county in Alabama and an increasingly attractive place to live and work on the Gulf Coast. In fact, the population of Baldwin County has grown 63% since 2000!
But Baldwin County didn't want to just grow jobs. They wanted purposeful growth.
"We wanted to diversify our economy," says Tanner Jones, Data and Communications Manager at Baldwin County EDA. "Historically, Baldwin County is highly reliant on tourism, because of our beaches. But that means we are susceptible to outside forces, like an economic downturn or an oil spill." Jones and his colleagues needed data on which industries could help diversify Baldwin County's economy and make it more resilient.
"But it's not just adding jobs to add jobs," Jones clarifies. "We're selective about the companies we choose to support and attract. We want to recruit companies that raise the floor and raise the ceiling with regards to wages. We want companies that will be a fit here."
To figure out which target industries would bring in high-wage jobs, Baldwin County EDA subscribed to JobsEQ by Chmura in 2015.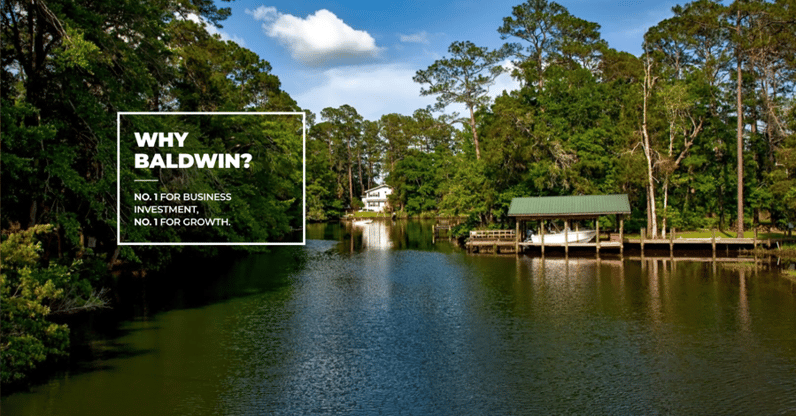 Success #1: 21% Job Growth in Transportation/Warehousing Since 2015
Baldwin County EDA quickly identified the Transportation/Warehousing sector as a key industry to target. "You can look it up in JobsEQ yourself," says Jones. "The average wages of a worker in Baldwin County is $39,000 a year; in the Transportation sector, it's $49,000. That can mean a pretty immediate pay increase for anyone who gets a job in Transportation or Warehousing."
Over the years, Baldwin County has competed for several large projects, using JobsEQ to give details on specific occupations, wages, and the talent pool within a specific radius of a potential project. "JobsEQ allows us to get creative in how to tell our story," says Jones. "If there appears to be a labor deficiency, we show that we have other people in the workforce who can transfer over, or we can create a new workforce pipeline from people who are underemployed or underpaid."
"We don't want a company to come here and fail. We want to make sure we have the workforce they need to succeed in Baldwin County."
Recently, the EDA's work paid off, attracting an Aldi distribution center and an Imperial Dade logistics hub—bringing a total of 250 new jobs to Baldwin County! Imperial Dade will be investing $20 million in a 220,000 square foot new logistics hub, expanding on an existing facility in Baldwin County.
The bid for the $100 million Aldi distribution center was even more competitive. "We were competing with several other counties for the Aldi project, so JobsEQ's workforce and wage data helped Aldi understand the benefits of being in our community. To tell our story, we used JobsEQ to show that we have a large base of underemployed people here in Baldwin County."

Source: Baldwin County Economic Development Alliance
Success #2: Creating a New Career Tech High School
An economic development organization…helping create a high school? For Jones, it's not an odd connection.
"Our organization has worked very closely with the local school system on a new full-time Career Tech high school, which will train students in aerospace, maritime, welding, healthcare, information technology, and other programs," says Jones. "The EDA serves as the connector between the school system and local industry, which has heavily influenced what the training programs will look like at the new school. Our job is to marry local business and education."
JobsEQ has played a crucial part in the development of this new career tech's programs. "We have used JobsEQ data significantly on the wage side. We want to train kids to go into jobs that will be lucrative for them, and JobsEQ historic industry data allows us to pinpoint which industries are growing and paying above average wages," explains Jones.
By ensuring that every program is backed up by timely and accurate labor market data, Baldwin County EDA is setting its future students up for success. The new high school plans to launch in the 2024-2025 school year!
Future Plans for JobsEQ: Marketing a 3,000-Acre Mega Site
One of Baldwin County's primary goals is to use JobsEQ to find a tenant for their 3,000-acre South Alabama Mega Site. "JobsEQ is critical as we are marketing and attracting companies to this site." says Jones. Baldwin County uses JobsEQ to show that there is a competitive and sustainable workforce in Baldwin County that can serve a new large industrial employer at the county-owned mega site.
"I often open the What-If analytic in JobsEQ to answer: if a certain type of project located here, what would be the economic benefit to the region?" says Jones.
To learn more about the South Alabama Mega Site and its recent $7 million sitework project, click here.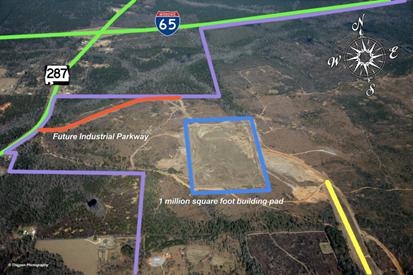 The Chmura Difference
"I live in Data Explorer," laughs Jones, referring to one of JobsEQ's most flexible analytics. "I like to pull the data out and work with it myself."
He also appreciates the high quality of service he's received at Chmura. "I'm a big fan of the Chmura team! At some point I've talked to everyone on the Chmura team. My Account Manager, Stephanie, does a great job helping me figure out funding to continue our subscription to JobsEQ," says Jones. "Across the board, I'm very happy with Chmura's products and people."
Finally, Jones also enjoys sharing data and economic development tips with other JobsEQ clients in neighboring counties.
Chmura is proud to partner with an organization like Baldwin County EDA! If you would like to join our community of JobsEQ users, schedule your demo today. We'd love to talk to you.
This blog reflects Chmura staff assessments and opinions with the information available at the time the blog was written.