Plenty of traditions surround the Fourth of July, including food and celebrations with family and friends near and far. According to the National Retail Federation (NRF), no celebration is more popular than cookouts. This year, the annual Independence Day survey from the NRF reports 65% of survey respondents plan to attend a cookout this holiday.[1] The percent of Americans planning to celebrate the Fourth of July has surpassed pre-pandemic levels for the first time, at 87% this year compared to 86% in 2019. Further, all celebration activities, such as parades and firework displays have returned to pre-pandemic levels or higher. Cookouts have shown the most dramatic increase with a difference of 4 percentage points, from 61% in 2019 to 65% in 2023.[2]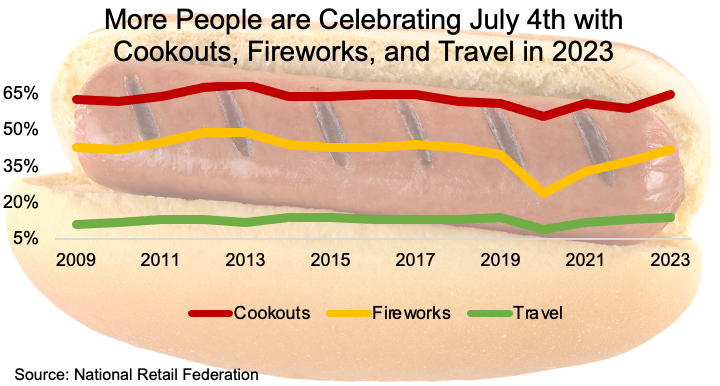 Many Americans enjoy foods such as watermelon, corn, and hamburgers at Fourth of July cookouts; but perhaps the most famous Fourth of July menu item is the hot dog. July is National Hot Dog Month; and, unsurprisingly, July 4 is the single biggest hot dog consumption day of the year. Americans are expected to consume 150 million hot dogs on the Fourth of July. From Memorial Day to Labor Day, peak hot dog eating season, Americans generally consume 7 billion hot dogs. The majority of these hot dogs are consumed at home. In 2022, over 900 million pounds of hot dogs were sold at retail stores over the full year, resulting in over $3 billion in sales.[3]
In terms of type of hot dog, 60% of Americans prefer all-beef hot dogs as opposed to varieties including pork and chicken. Several brands have incorporated 100% real beef options that are considered healthier, including Ball Park, Oscar Meyer, Hebrew National, and more.[4] Hot dog meat comes from the trimmings of other beef products and, in the United States, is sourced from a variety of states that have a large beef industry.[5]
To further investigate where beef franks are sourced, the Maps feature of Chmura's JobsEQ® was used to produce a heat map of the locations of industry establishments in beef cattle ranching and farming and animal processing in the U.S. This beef may be processed near the farms, and indeed the locations of beef cattle ranching and farming also align closely with animal slaughtering and processing establishments in parts of Texas and California. Cattle may also be transported across the country for processing, and JobsEQ data show additional concentrations of processing establishments in Illinois, Iowa, Georgia, and Pennsylvania.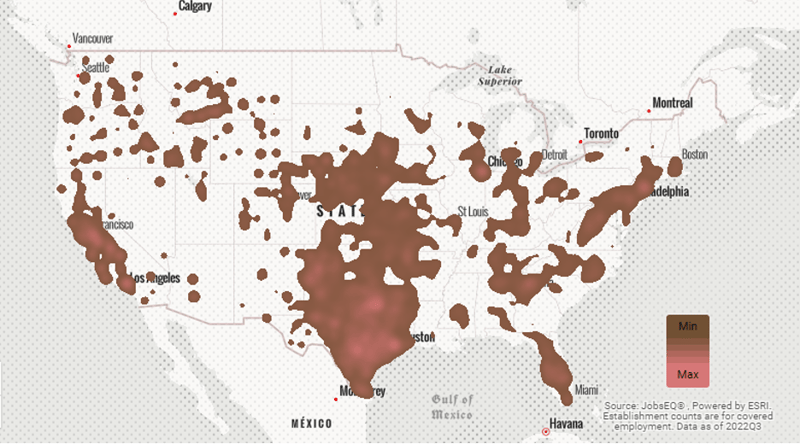 Whether you decide to enjoy a hot dog this season or not, you can expect food prices to be higher than they were in 2022. According to the BLS, the average price of frankfurters in U.S. cities was 1.1% higher in May 2023 than May 2022. The price of uncooked ground beef, used by many households to cook hamburgers on the Fourth, rose 0.6% in the same time period, and the price of condiments, spices, seasonings, and sauces has risen 9.5%.[6] As prices rise, the NRF expects total spending this holiday season to reach $9.5 billion, up 23% from $7.7 billion in 2022, and up 40% from $6.78 billion in 2019 before the pandemic. This is equivalent to an expected $93.34 average spending per household for Fourth of July food items, compared with $84.12 in 2022 and $73.33 in 2019.[7]
If you are considering traveling to celebrate with family or friends, travel-related inflation is beginning to cool, and the percent of consumers traveling this holiday has returned to pre-pandemic levels. The NRF reports 14% of survey respondents plan to travel for the Fourth of July, up from 13% in 2022. One significant reason for increased travel this season could be falling car rental and airfare prices. Car rental prices were down 12.4% and airline prices were down 13.4% over the year ending May 2023. Car rental prices have been falling in the short term as well, down 2.1% between April and May of this year. Airline prices rose 1.3% between April and May 2023, which can be attributed to increased demand for flights over the summer months. Despite falling transportation prices, travelers will continue to see increasing hotel and lodging rates this holiday. Prices were up 3.7% in May 2023 from May 2022 and up 3% from April to May 2023.[8]
With increased travel this holiday, AAA expects a record 50.7 million people to travel 50 miles or more. Of these, 43.2 million are expected to travel by car, and 4.17 million by air.[9] Relatively stable gas prices are a good sign for drivers. Low oil costs coupled with falling demand for gas are contributing to lower prices. As of mid-June, the national average cost of a gallon of gas was $3.58, $1.43 lower than June 2022.[10]
Historically, the top travel destinations in the U.S. for Independence Day have been Orlando, Florida; Seattle, Washington; Anaheim, California; and New York City, New York, according to AAA. As these cities experience high volumes of tourists in the summer months, the Data Explorer feature in JobsEQ® was used to evaluate the projected growth of the tourism industry in these regions in 1, 3, 5, and 10 years. The results are summarized in the graph below, with the largest long-term growth anticipated in Orlando and Seattle.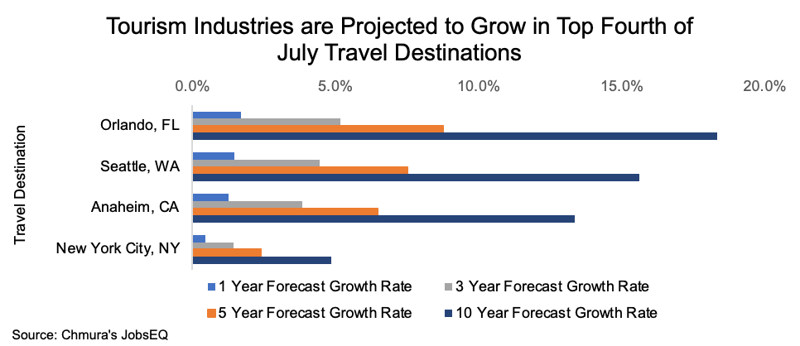 To learn more about Maps and Data Explorer in JobsEQ®, or to find out how JobsEQ® can be used to evaluate industries and trends in your region, contact Chmura today.
--------------------------------------------
[1] The National Retail Federation conducted its annual Independence Day Survey in early June, receiving 8,225 responses, with a margin of error of +/- 1.1%.
[2] Source : https://nrf.com/research-insights/holiday-data-and-trends/independence-day/independence-day-data-center
[3] Source : https://www.hot-dog.org/media/consumption-stats
[4] Source : https://www.eatthis.com/store-bought-hot-dogs-pure-beef/
[5] Source : https://www.usatoday.com/story/life/food-dining/2022/07/02/what-is-in-hot-dogs-july-fourth/7711708001/
[6] Source : https://www.bls.gov/news.release/cpi.t02.htm
[7] Source : https://nrf.com/research-insights/holiday-data-and-trends/independence-day/independence-day-data-center
[8] Source : https://www.nerdwallet.com/article/travel/travel-price-tracker
[9] Source : https://newsroom.aaa.com/2023/06/record-breaking-travel-volumes-expected-july-4th-weekend/
[10] Source : https://newsroom.aaa.com/2023/06/what-a-difference-a-year-makes/
This blog reflects Chmura staff assessments and opinions with the information available at the time the blog was written.