Americans' plans to celebrate July Fourth include increased spending on food items and more cookouts, but a muted return to fireworks and community celebrations.
The National Retail Federation recently released results from its annual Independence Day survey of nearly 8,000 consumers; and results show a rebound from pandemic declines in celebrations and spending.[1] An estimated 84% of Americans are planning on celebrating the holiday this year, up from 76% in 2020. Total spending on food products is expected to jump more than 15% from $6.52 billion in 2020 to $7.52 billion in 2021. Broadly, this is indicative of the reopening of the economy and pent-up demand for celebrations as social distancing restrictions are lifted across the country.
However, the mix of celebration plans has changed since before the pandemic. In 2019, 61% planned on celebrating with a cookout/BBQ/picnic while 40% planned on a community celebration/fireworks (respondents could select multiple planned activities).[2]
As the pandemic and social distancing policies restricted large and small gatherings, plans for fireworks/community celebrations dropped to 24% last year, while plans for cookouts fell to 56%.
This year, 61% again plan to cookout/BBQ/picnic, returning to pre-pandemic levels. Meanwhile, only a third (33%) plan on celebrating with a community celebration/fireworks show, seven percentage points below the 2019 rate.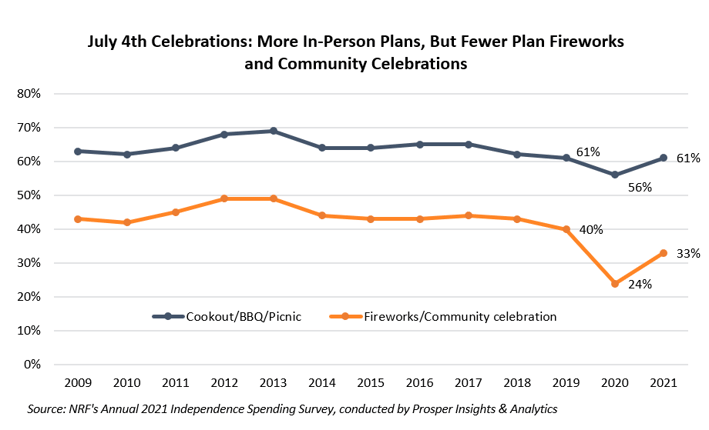 These survey results imply that Americans are looking forward to celebrating the Fourth of July with family and close friend groups, but many are still somewhat hesitant to return to larger gatherings with the broader community. If this holds over the summer, other businesses and events may expect to see a sharp increase in activity compared with last year, but maybe not a return to pre-pandemic levels, particularly for larger and more social events and activities.
[1] https://nrf.com/topics/holiday-and-seasonal-trends/independence-day
[2] Additional plans not shown include attending a parade, traveling or taking vacation, "other" celebrations, and not celebrating.
This blog reflects Chmura staff assessments and opinions with the information available at the time the blog was written.