With inflation jumping to 8.6% over the last 12 months ending with May 2022 and eroding consumer spending power, what gifts can dads expect this year? How much will their children spend on them?
The National Retail Federation recently released results from its annual Father's Day survey of over 8,200 consumers, which points to an increase in the percentage of people celebrating but a decline in spending.[1] An estimated 76% of Americans plan to celebrate the holiday this year, up slightly from 75% in 2021.
What Can Dads Expect?
The top gifts dads can expect this year are greeting cards, clothes (you can never have too many ties), and special outings.[2] Although greeting cards are the most common Father's Day gift, only 58% of Americans plan to buy them this year, a slight decline from the previous year (59%). The average consumer will spend about 4.5% less on this item, from $7.73 in 2021 to $7.38 in 2022.
Clothing is the second most popular gift choice in 2022. People will spend an average $26.62, or 1.3% more than in 2021 ($26.29). A larger percentage of Americans plan on buying their fathers clothing this year—50% compared with 49% in 2021.
An Old Favorite Returns
Special outings will see an increase. Based on the survey, 48% plan to surprise their dad with a special outing in 2022, a two-percentage point increase from 2021. Americans are expected to spend 9.9% more this year on outings, from $29.37 in 2021 to $32.29 in 2022.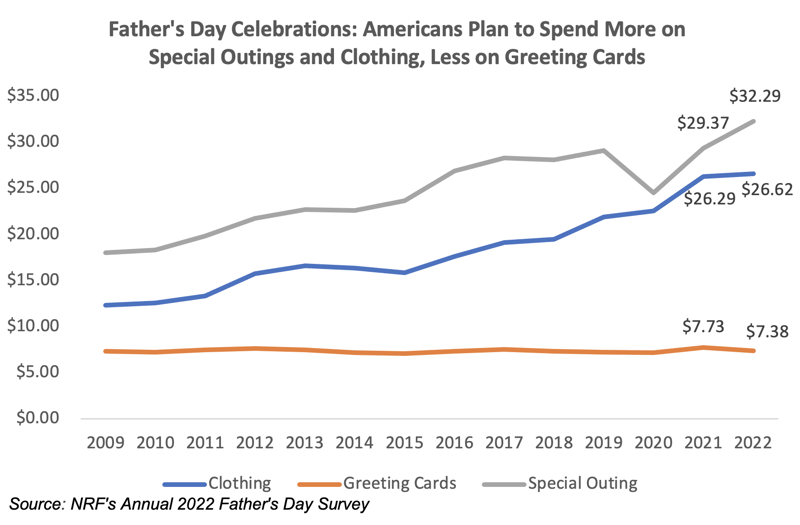 The survey implies that although more Americans are celebrating Father's Day this year, they will be spending 1.3% less. The average person is expected to spend $171.79 in 2022, compared to the $174.10 in 2021. In total, Father's Day spending is expected to generate $20.0 billion—$0.1 billion less than in 2021.
Finally, we will leave you with everyone's favorite – a dad joke. Why should you always try to order rare goods from economists? They can always supply anything on demand (just like this blog).
[1] https://nrf.com/topics/holiday-and-seasonal-trends/fathers-day
[2] Although not included in this blog, other potential gifts include, but are not limited to, gift cards, electronics, sporting goods, and tools or appliances.
This blog reflects Chmura staff assessments and opinions with the information available at the time the blog was written.