While new job ad volume has improved compared to the heart of the coronavirus lockdown in early Spring, recent volume in the nation still trails pre-COVID peaks.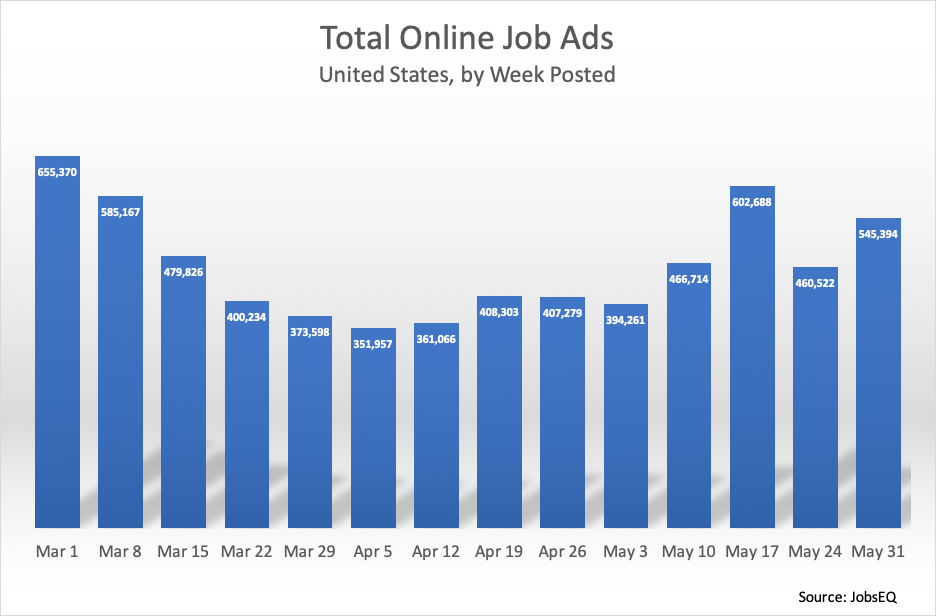 After surging the week of May 17, new online job ads pulled back the week of Memorial Day—which was not unusual for a shortened business week. New ad volume improved the week of May 31 to 545,394, but this trailed the pace set the week of May 17 (602,688) and also was low compared to volume the first week of March, prior to the coronavirus-driven downturn (655,370).
Variation in Demand by Occupation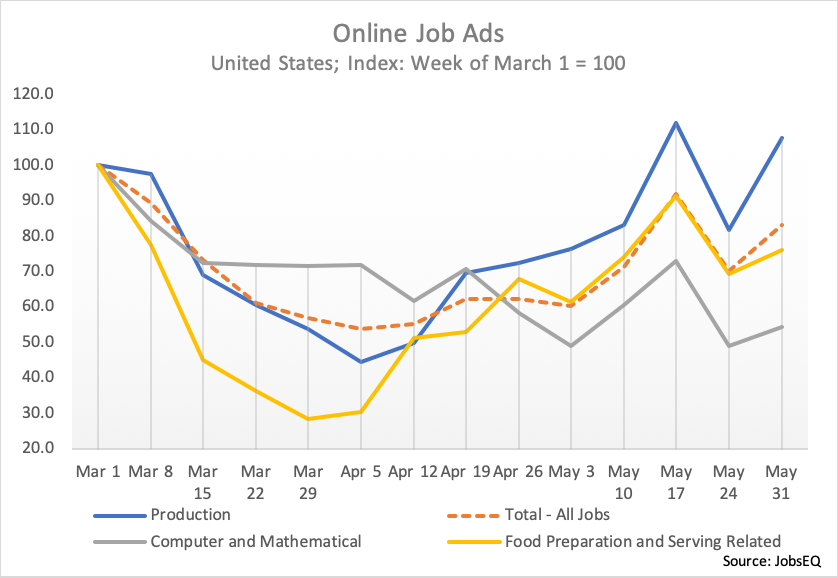 As we have seen in prior weeks, as the economy is opening up not all occupations are seeing improvements at the same rate. Many white-collar occupation groups have been lagging in recovery, typified in the above chart by the computer and mathematical occupations. These jobs did not decline as sharply as all jobs did in late March and early April; but since mid-April, new job ads for computer and mathematical positions have been generally lower rather than rebounding.
Blue-collar jobs, on the other hand, have posted a stronger recover in recent weeks. Production jobs, as seen above, have been rebounding throughout May at a stronger than average pace.
Services jobs were hit hard early during the coronavirus crisis, typified above by the food preparation and serving related occupation group which plummeted to a trough the week of March 29. This occupation group, however, has been recovering at about an average pace since late April.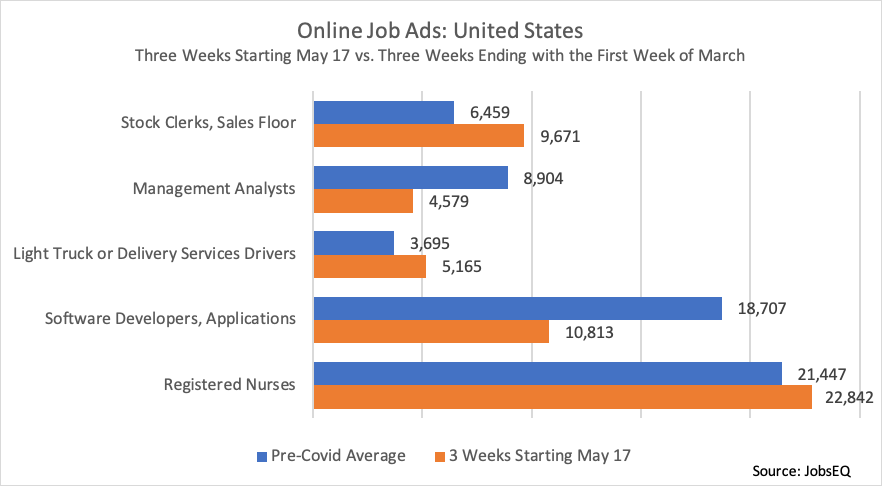 In terms of more specific careers, the above chart shows a few winners and losers in how the job ad market in the past three weeks compares to the pre-COVID period. New ads for management analysts as well as applications software developers were down sharply compared to average levels before the economy closures due to COVID-19. In contrast, ads for sales floor stock clerks were nearly 50% higher compared to pre-COVID levels and ads for light truck or delivery services drivers were up nearly 40%. Registered nurses demand was also moderately up, with job ad volume less than 10% higher.
About the Data
All data above are derived from JobsEQ, the Real-Time Intelligence online job ad data set, pulled from over 30,000 websites and updated daily. Historical volume is revised as additional data are made available and processed. Each week of ads is defined as new online ads that start between Sunday and the following Saturday, inclusive. All ad counts represent deduplicated figures.
Many extraneous factors can affect short-term volume of online job postings. Thus, while the changes noted above should be watched over time to confirm the impacts, such a short-term snapshot can offer an early indication of labor market shifts, especially valuable in this time of unprecedented economic disruption.

This blog reflects Chmura staff assessments and opinions with the information available at the time the blog was written.