Job ads continued to rebound with a strong third week in May. While some occupation groups have returned or surpassed pre-COVID peaks, some lag behind, especially many art, entertainment, and recreation workers.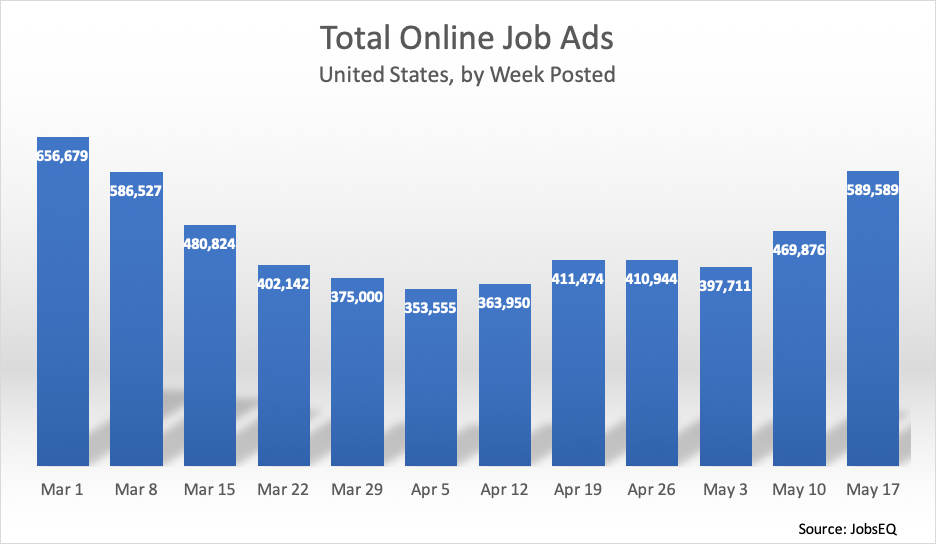 In the week of May 17, new online job ads surged to 589,589, a 25% increase over the prior week and the most new ads since the week of March 1. This is a strong indicator that the job market is being reinvigorated as states reopen their economies following the coronavirus shutdown. The volume of new job ads the week of May 17 was roughly two-thirds higher than the trough that occurred the week of April 5.
Variation in Demand by Occupation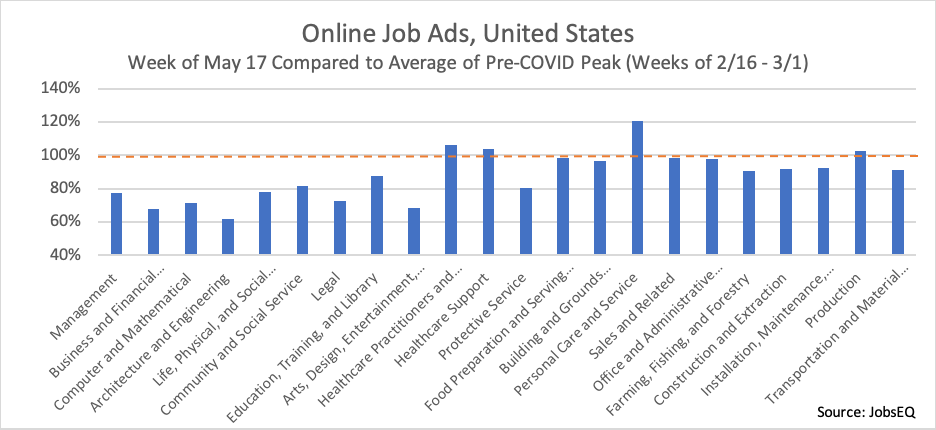 In the third week of May, several occupation groups surpassed their average weekly level of new job ads in place before the COVID-19 crisis began. Specifically, the chart above compares new ad volume the week of May 17 to the average of the three weeks ending with the first week of March. Personal care and service occupations in the week of May 17 saw demand reach 121% of pre-COVID levels, a surge in demand certainly welcome for these careers which were hit hard during the crisis. Other groups reaching pre-COVID levels last week were healthcare practitioners and technical (106%), healthcare support (104%), and production (102%).
Several other occupation groups weren't completely at pre-COVID levels, but nonetheless rebounded the week of May 17 to nearly previous levels of new job ads: food preparation and serving related (98%), building and grounds cleaning and maintenance (97%), sales and related (99%), and office and administrative support (98%).
Some occupations groups, however, have been slow to see job ad activity recover. This is especially true of some white-collar jobs, even though white-collar occupations in general fared better than average in new job postings in the earlier portion of the coronavirus downturn. Occupation groups that are still over a quarter below pre-COVID levels include business and financial operations (68%); computer and mathematical (71%); architecture and engineering (62%); legal (73%); and arts, design, entertainment, sports, and media (68%).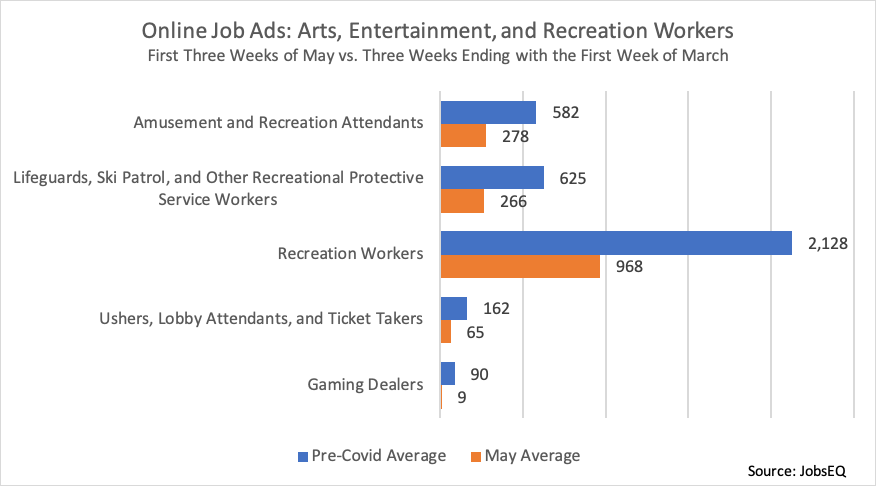 The arts, entertainment, and recreation sector has seen acute job declines due to COVID-19, and despite many states opening up some businesses, this sector has lagged behind due to its reliance on crowds of patrons. The above chart shows some occupations common in this sector and the lack of rebound in job ads for these positions. This sector includes amusement and theme parks, casinos, museums, theaters, and zoos.
About the Data
All data above are derived from JobsEQ, the Real-Time Intelligence online job ad data set, pulled from over 30,000 websites and updated daily. Historical volume is revised as additional data are made available and processed. Each week of ads is defined as new online ads that start between Sunday and the following Saturday, inclusive. All ad counts represent deduplicated figures. The relationship between ad counts and actual hires is described here.
Many extraneous factors can affect short-term volume of online job postings. Thus, while the changes noted above should be watched over time to confirm the impacts, such a short-term snapshot can offer an early indication of labor market shifts, especially valuable in this time of unprecedented economic disruption.

This blog reflects Chmura staff assessments and opinions with the information available at the time the blog was written.