New job ads surged in the second quarter of 2021, well exceeding the peak ad volume prior to the COVID downturn. Most occupation groups recovered to prior levels of activity, though with a few exceptions.

The Overall Market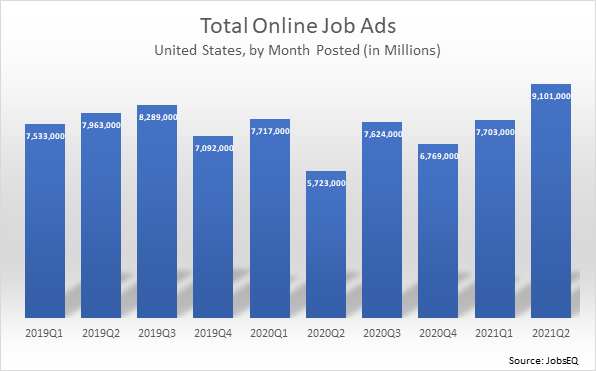 New online job ads reached 9.1 million in the second quarter of 2021. This level easily exceeds the job ad volume at any point in the prior two years. Two years earlier, the second quarter of 2019, the number of new job ads was just under 8.0 million, over a million lower than in the second quarter of 2021. This surge in job ads may have partially been driven by pent-up demand from employers that were delaying hiring until the lockdowns were unwinding, though increased demand due to turnover likely played a role as well.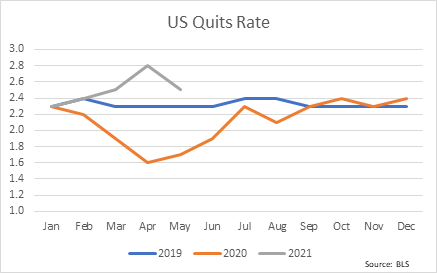 The rate of quits in the nation increased in early 2021 as many were anticipating. As written about previously, the rate of quits—especially in some white collar industries—notably slowed in 2020 during the lockdowns. It was thought that turnover slowed as many employees stayed with their current employer rather than try to switch jobs during an uncertain job market, and this effect would produce pent-up turnover demand. Consistent with this idea, the rate of quits rose in 2021 to levels not recorded in the last ten years. As a consequence, the job ad growth in the second quarter may partially be tied to the need to fill these vacancies due to quits.
Occupation Trends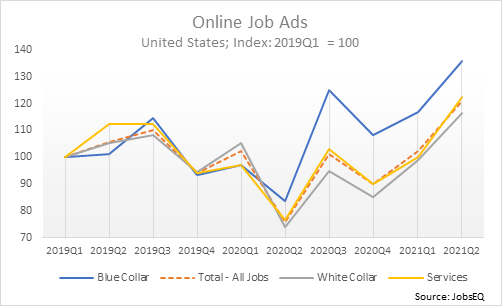 Blue collar jobs had the quickest recovery in new job ad volume. Following the COVID downturn in the second quarter of 2020, new ads for blue collar positions fully rebounded the very next quarter. White collar and service jobs, however, saw a continued dampening of new job ads through the remainder of 2020. In the first quarter of 2021, ads for white collar and service jobs were close to pre-COVID levels, and in the second quarter both groups saw robust increases to new peaks.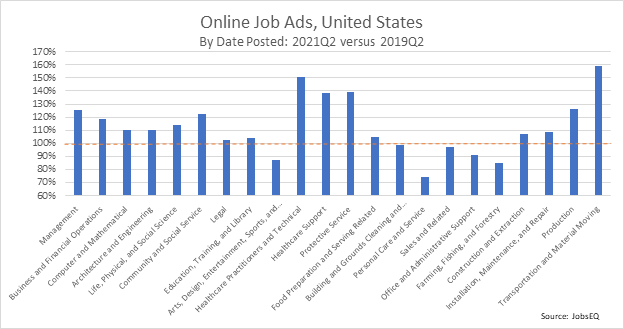 Diving more deeply into the occupation data we see which groups (at the 2-digit SOC[1] level) in 2021 quarter two eclipsed their previous benchmark in 2019 quarter two.[2] As noted previously, some white collar groups such as the computer and mathematical occupations were slow to recover as recently as the first quarter of 2021—in the second quarter, however, ads for these jobs finally rebounded. Transportation and material moving jobs were well above where they were two years ago, with many transportation and warehousing-related jobs growing since the onset of COVID. In a more recent development, new job ads have expanded for protective service occupations, especially security guards, possibly influenced by the increase in organized retail crime.
Among groups still below prior job ad levels, demand for personal care and service occupations has remained low, driven by fewer ads for childcare workers and nannies and despite the rebounded demand for hairdressers. The arts, design, entertainment, sports, and media group also has continued with fewer new job ads, including slow demand for graphic designers, editors, and merchandise displayers and window trimmers. Office and administrative support jobs remained a bit below the benchmark, with demand being especially below par for secretaries and administrative assistants; customer service representatives; and bookkeeping, accounting, and auditing clerks.
About the Data
All job postings data above are derived from JobsEQ, the Real-Time Intelligence online job ad data set, pulled from over 40,000 websites and updated daily. Historical volume is revised as additional data are made available and processed. Each month of ads is defined as new online ads that first appeared in that month. All ad counts represent deduplicated figures. The relationship between ad counts and actual hires is described here.
Many extraneous factors can affect short-term volume of online job postings. Thus, while the changes noted above should be watched over time to confirm the impacts, such a short-term snapshot can offer an early indication of labor market shifts, especially valuable in this time of unprecedented economic disruption.
[1] Standard Occupational Classification.
[2] We omit the comparison here to 2020 quarter two since that quarter was unusually low due to the onset of the COVID lockdowns.
This blog reflects Chmura staff assessments and opinions with the information available at the time the blog was written.