Job post duration, which measures how many days it takes to fill positions, provides an indication of how hard it is for employers to find qualified candidates.[1]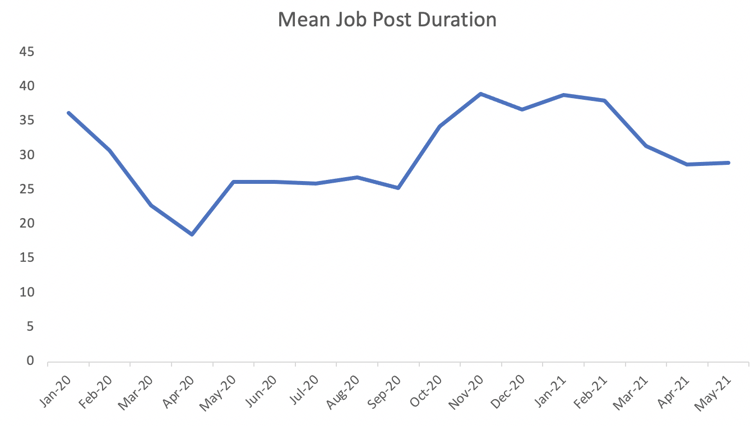 The initial drop in job post duration at the start of 2020 can be attributed to the start of the pandemic as well as the seasonal reduction in hiring after the year-end holidays. The larger-than-typical decline related to seasonality was exacerbated by business closures and the general slowdown of the economy—because of COVID, businesses reduced hiring and removed some existing job posts. Rising unemployment meant job seekers were eager to accept offers, so those job posts that remained were filled more quickly. The lowest job posting duration was in April 2020 (18.6 days), occurring the month after lockdowns occurred across much of the United States.
Towards the end of 2020 and the start of this year, the duration of job postings increased, in part due to seasonal businesses hiring during the holidays. The peak duration of job postings was in November 2020 (39.0 days), remaining around this same level for the following three months. The peak occurred just prior to the rollout of the vaccine.
As the vaccine rollout ramped up in February 2021 and peaked April 2021, the economy improved, and businesses began to reopen and scale up operations to meet increased demand. Hiring picked up, but a variety of reasons from generous unemployment benefits, to fear of contracting the virus, and the need to stay at home with children learning remotely made some hesitant to return to work.
In the near term, we expect job post duration to increase as the labor market tightens. Competition for workers will rise as businesses continue to reopen, which will increase the number of job posts. A surge of COVID-19 cases driven by the Delta variant may cause unease among workers contemplating to return to work, aggravating the labor shortage.
About the Data
All the data seen in the job posting duration chart above are derived from JobsEQ, the Real-Time Intelligence online job ad data set, and pulled from over 40,000 websites and updated daily. The relationship between ad counts and actual hires is described here.
[1] This analysis uses actual occupation mix. We also ran the analysis using fixed occupation mix over time to eliminate potential effects from the variation in occupation mix and found that the trend was substantially unchanged.
This blog reflects Chmura staff assessments and opinions with the information available at the time the blog was written.