Traditional staffing companies source and place candidates into open roles for clients, and aid job seekers in finding employment. Award Staffing, an industrial staffing agency based in the Twin Cities metropolitan area, goes beyond the role of traditional staffing agencies, and positions themselves in an advisory role for their clients to provide comprehensive, strategic support in all staffing efforts.
Staffing is no easy feat, and with over 800 staffing agencies in the Twin Cities metro area alone, there is a lot of competition—Award Staffing leverages the data found in JobsEQ to stand out.
Using Labor Market Data to Make Staffing Decisions
Before the pandemic, Award Staffing primarily used their labor market software to gather wage data. They used this information to provide clients with clarity on the value of roles they were looking to staff, and provide insight on appropriate wages.
After the COVID-19 pandemic, the labor market was tight and employers had to reevaluate their strategies to attract the best talent in a competitive hiring market. They needed to consider more than just wage data to reach their recruiting goals. Standard business practices did not apply.
Award Staffing was up for the challenge of advising their clients through the tumultuous shifts in the economy. Dealing with unprecedented circumstances, Derek Freese, VP of Sales and Marketing at Award Staffing, said that he has "all these things I didn't know I needed" with JobsEQ. With the ability to complete both historical analyses and growth forecasts for occupations and access the underlying data, JobsEQ gives Freese and the Award Staffing team new streams of data they didn't have access to before. Armed with these data, the company can take on an advisory role for clients and guide them through business decisions related to staffing and hiring in times of economic uncertainty.
JobsEQ Helps Award Staffing Become a Trusted Partner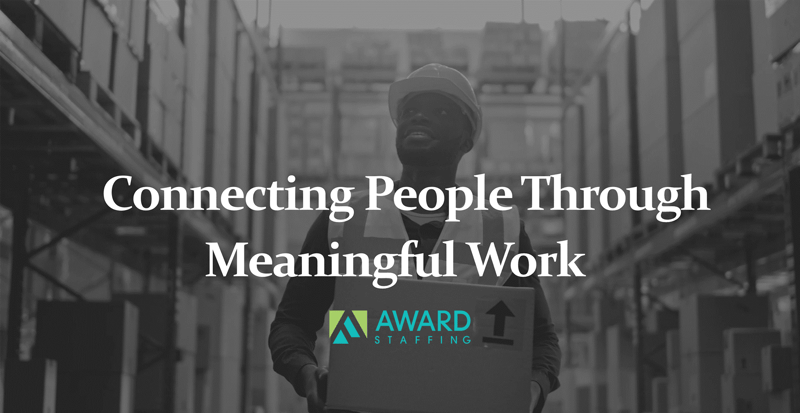 Award Staffing doesn't want to just be a "vendor" in the staffing process - they want to be a trusted partner. Recently, one of Award Staffing's biggest clients was facing a decision on where to expand. The Minnesota-based company had decided to shutter their Los Angeles facility, and they were looking to expand to a more cost-efficient location. The Award Staffing team utilized JobsEQ to put together a Market Expansion Analysis for their client to guide them through the expansion decision.
When preparing the Market Expansion Analysis for their client, Award Staffing analyzed the economic impact of such an expansion. The team established custom 30-minute drive time regions from the potential site in Texas and their current site in Minnesota. Freese and his team isolated specific data points relevant to their client, identified trends for both regions, and exported these data to create a custom report.
The Award Staffing team was able to run a direct comparison between locations using JobsEQ, including data points that could impact the ability to source and hire for the roles their client needed such as median income, average commute time, poverty levels, educational attainment, and more.
Analyzing occupation-specific groups custom to this facility, Award Staffing provided insight on the availability of talent for each role, as well as data-backed recommendation of wages for each role in each location.
The Award Staffing team also included a trend analysis in their report. By looking at the current unemployment rates, three-year historical analysis, and a three-year growth forecast, they identified that the region in Texas is expected to see significant growth in warehousing over time - allowing them to source from a larger talent pool at a lower wage.
Award Staffing also uses JobsEQ data for internal decisions. By weighing wage data and looking at employment forecasts in custom regions defined at the ZCTA (ZIP code) level, Award Staffing uses JobsEQ data to make smarter business decisions, like whether or not to expand their business locations to nearby markets.
Freese believes that JobsEQ helps them "be more professional and provide better data in a more articulate way," to their clients and ask better questions through their staffing process.
The Chmura Difference
When it came time for Award Staffing to evaluate their labor market software tool, they considered their options. After connecting with Chmura and learning about the capabilities and features, switching to JobsEQ was a "simple choice," according to Freese.
Freese knew he didn't want Award Staffing to be "just another number" to their data company - he was looking for a partnership, and he found this with Chmura. He was impressed by the high level of customer service he experienced, from the responsiveness of the initial contact to the continuous support.
Freese also appreciated the quality of Chmura's data within the JobsEQ platform, stating that "with JobsEQ, the data is best in class, and the different things I could look at that I never had access to before was fantastic" from wage trend history to market trends and forecasted growth, and more. Award Staffing's needs are dynamic, and JobsEQ allows them to access the exact data points they need, beyond pre-packaged reports.
Chmura is proud to partner with organizations like Award Staffing, who use our products and services to bring a high level of humanity to the hiring process. If you would like to join our community of JobsEQ users, schedule your demo today. We'd love to talk to you.
.
This blog reflects Chmura staff assessments and opinions with the information available at the time the blog was written.