Are you wondering how COVID-19 will affect what jobs are in-demand in the next few years?
We've got a solution. The Chmura team is excited to announce that we've added an Alternative COVID Forecast to JobsEQ based on current expectations of when a vaccine will be available.
We've used our 30+ years of experience as PhD economists, Blue-Chip forecasters, and data scientists to add a model in JobsEQ that forecasts the near-term impact of COVID quarter-by-quarter.
You can use this forecast to see how occupations and industries will be affected by COVID-19. Now, you'll feel confident that your plans are based on the most up-to-date and expert information available.
It's even easy to compare the Alternative COVID Forecast to the pre-COVID forecast in our Forecast Comparison analytic.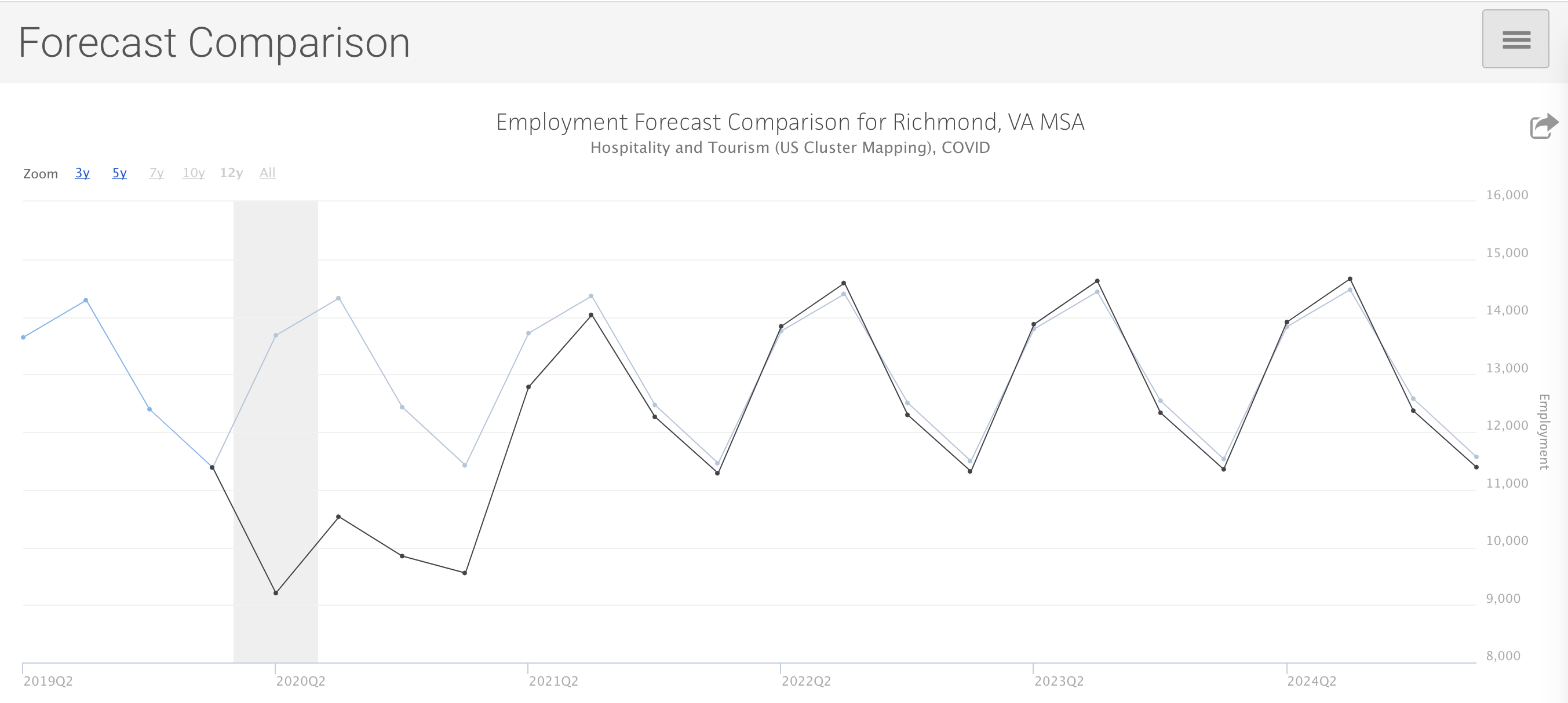 How to Get Access
If you're a JobsEQ client, log in to JobsEQ right now. It's in any analytic with a Forecast dropdown menu.
If you're not a JobsEQ client yet, schedule a call about JobsEQ today!
JobsEQ by Chmura is the only labor market software in the world with a forecast that takes COVID-19 into account.
Our Assumptions
A vaccine for COVID-19 will be widely distributed by mid-2021.
Based on our forecast model, this means employment will likely reach pre-COVID levels around Q4 2021 to Q1 2022.
We will continue to monitor developments and update the COVID forecast at least quarterly.
Get Our Data
Want our COVID forecast, but don't need a software tool? Schedule a call with us to discuss how you can get our data or a report.
The Chmura team is excited to share this Alternative COVID Forecast with you so you can help your communities. Reach out if you have any questions and spread the word!

This blog reflects Chmura staff assessments and opinions with the information available at the time the blog was written.