Amid upward price pressure from supply chain disruptions and other pandemic impacts, the average price for the Thanksgiving centerpiece has stayed roughly the same this year. The average price per pound of a frozen whole turkey inched down 0.1% from $1.851 in September 2020 to $1.849 in September 2021 according to data from the U.S. Bureau of Labor Statistics.[1] Over the past year, inflation as measured by the Consumer Price Index (CPI) increased 6.2%.[2] Along with rising wages in many industries, the stability in turkey prices will be welcome for families dealing with other rising costs. Indeed, the USDA turkey market news report this week indicates market demand for frozen turkeys is "steady to firm for Thanksgiving."[3] If you haven't bought a turkey yet, frozen turkey prices have declined from October to November every year since 2013 at an average of 16 cents per pound and can be expected to decline again this month.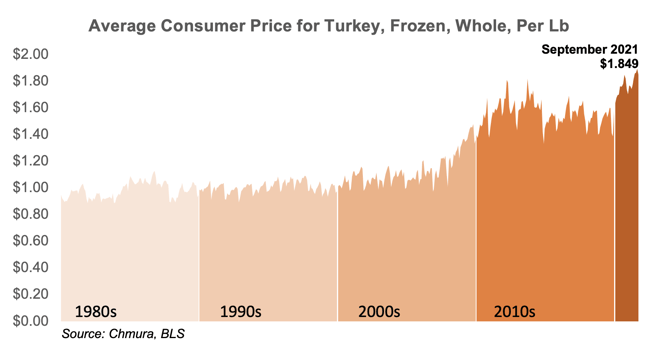 [1] Average price data from January 2020 were brought up through September 2021 using the Consumer Price Index series for "other uncooked poultry including turkey."
[2] https://www.bls.gov/news.release/pdf/cpi.pdf Consumer Price Index - October 2021, not adjusted for seasonality.
[3] https://www.ams.usda.gov/mnreports/pytturkey.pdf
This blog reflects Chmura staff assessments and opinions with the information available at the time the blog was written.