As we wrap up 2022, we wanted to take a look back at one of the highlights of our year. In October, JobsEQ users from across the U.S. gathered in Cleveland to network, hear from a great group of speakers, learn at JobsEQ-focused workshops, attend FIT Certification training, and share best practices with one another. For the Chmura team, being able to spend time together as a JobsEQ community and hearing first hand how our labor market technology platform JobsEQ is used is an opportunity that we cherish as a company. After postponing the conference due to the COVID-19 pandemic, it was great to be back in person.
Highlights:
FIT Certification Training
Attendees quickly got down to business with our JobsEQ FIT Certification program. Our users immersed themselves in a deep-dive structured program to learn how to use multiple JobsEQ analytics to tell their story. They learned how they can use data to craft strategies to promote economic development, foster regional talent, design educational programs, and become a stronger user of JobsEQ. If you are interested in learning more about our FIT certification program, visit https://www.chmura.com/jobseq-fit-certification or reach out to your Account Manager.
Speaker Highlights
Our CEO, Chris Chmura kicked things off with an overview of the national economy and the topics on everyone's minds — the labor market, inflation, and the likelihood of a recession. Dr. Chmura leads our consulting team who can assist with industry and labor market analyses, strategic planning, competitor benchmarking, economic forecasts, and economic impact studies. Learn more here.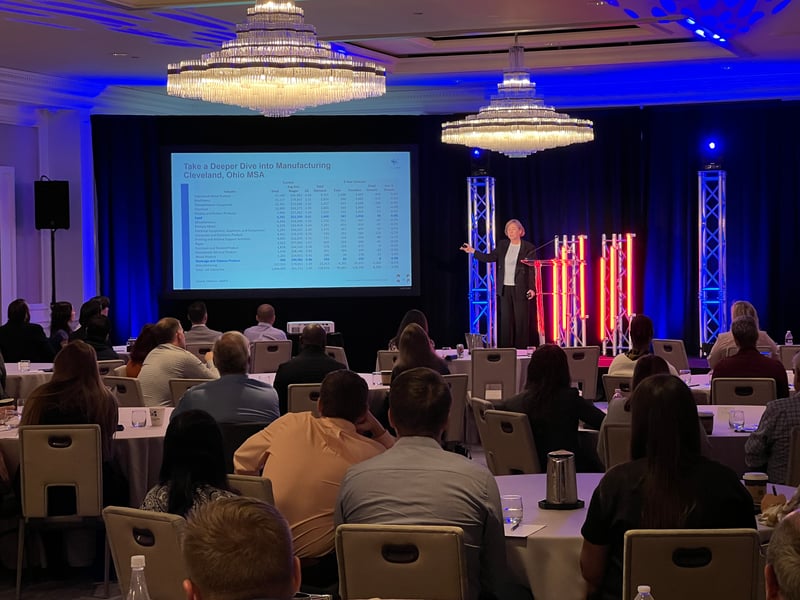 Derek Hilbert, Director of Talent Acquisition for Hanesbrands Inc. gave an overview of how he uses JobsEQ as a tool to help his organization build a talent acquisition strategy and identify any potential labor risks and opportunities to protect and support the company's strategy. According to Derek, talent acquisition is a timed chess match with an unlimited number of opponents and changing rules - making having access to accurate data critical. Learn more about Chmura can help corporations here.
Liesel Schmader, a Senior Consultant focused on Location Strategy in Deloitte's Real Estate Strategy & Sustainability practice spoke to attendees about Deloitte's location strategy methodology and how data plays a role in location decisions. To learn more about labor data for site selection, visit our website.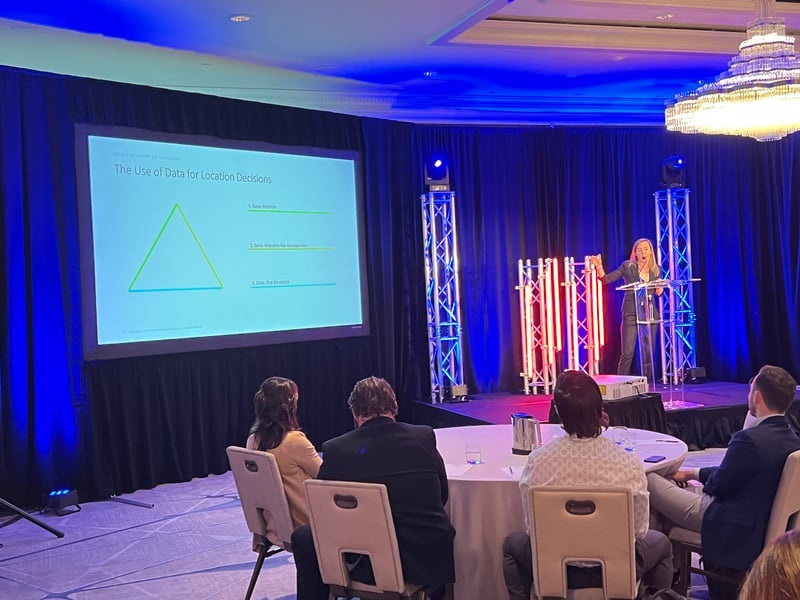 We also heard from multiple speakers from the worlds of economic development and workforce development about the role access to quality data plays in their everyday roles. We also had an economic history lesson from the Cleveland Fed, learning more about the industrial heartland.
The Chmura team also held workshops for JobsEQ users designed to provide insight and new tips and tricks for JobsEQ analytics designed to supply accurate data to make better decisions and save time. Workshops included information on Data Fetch, our new big data extractor tool which is all about customization and agility with large volumes of data and RTI which enables you to keep up with the daily changes and trends in the local economy with job posting data that comes from more than 40,000 sources.
We also had a lot of fun along the way, with a visit to a local craft brewery in downtown Cleveland, the location of our company's second office and got to hear a performance from the Liverpool Lads - tying us back into our conference theme of All You Need is Data.
To learn more about JobsEQ, Chmura's technology platform designed to improve your labor market research, and become part of the JobsEQ community, visit https://www.chmura.com/software.
This blog reflects Chmura staff assessments and opinions with the information available at the time the blog was written.