Consumers are facing some relief as gas prices have been on a downward trend since mid-June. The national average price of gas is currently $4.19 per gallon, $0.63 lower than the average of $4.82 per gallon one month ago.[1] As shown in the chart below, these prices are not historically high after adjusting for inflation.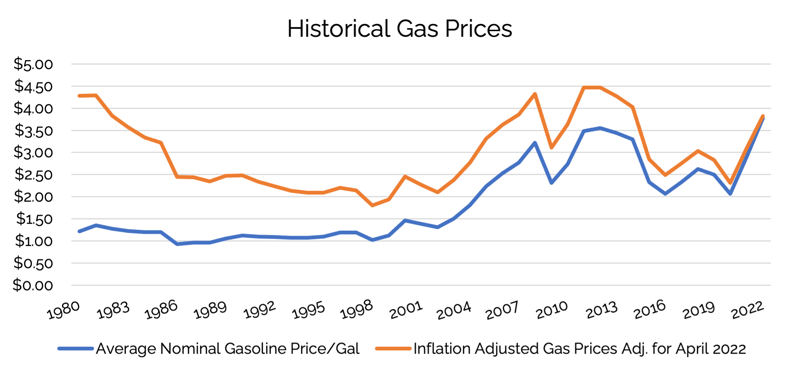 Source: inflationdata.com, AAA gas prices, eia.gov
These elevated prices are a culmination of many factors, such as high consumer demand, reduced supply after the initial Covid-19 lockdowns, and the disruption of global energy markets by Russia's invasion of Ukraine in February.[2]
The gradual decrease in prices over the past month is a sign of changes in the economy. This decrease is likely due to two main factors: a decline in consumer demand and lower global oil prices.[3] Gasoline usage was down 8% in the past 4 weeks compared to the same month one year ago, as consumers changed behaviors and adapted to higher prices.[4] Global oil prices have been easing due to the growing threat of recession in wealthy countries and the related further decline in consumer demand.[5]
It is unclear whether gas prices will continue to decline back to their former levels. One factor that could halt this decline is the high likelihood more sanctions will be placed on Russia this Fall,[6] which would likely lead to energy price manipulation by Russia as retaliation against Western countries. Another threat is an active hurricane season in the Gulf, which would slow down oil production and put upward pressure on oil prices.[7]
-----------
[1] "National Average Gas Prices," AAA Gas Prices, AAA, last modified July 29, 2022, https://gasprices.aaa.com/
[2] Kelly Ann Smith and Lisa Rowan, "Will Gas Prices Continue to Decline? How to Save at the Pump this Summer," Forbes Advisor, July 18, 2022, https://www.forbes.com/advisor/personal-finance/how-to-save-money-on-gas/
[3] "Summertime Swoon? Pump Prices Fall Again," AAA Gas Prices, AAA, July 18, 2022, https://gasprices.aaa.com/summertime-swoon-pump-prices-fall-again/
[4] "Weekly Petroleum Status Report," U.S. Energy Information Administration, U.S. Department of Energy, July 27, 2022, https://www.eia.gov/petroleum/supply/weekly/
[5] Michael D. Shear, "Biden Plans Sanctions on Russian Lawmakers as He Heads to Europe," The New York Times, March 24, 2022, https://www.nytimes.com/2022/07/22/us/politics/biden-gas-prices.html
[6] Aaron Gregg, "Gas prices have plunged 10 percent since their June peak," The Washington Post, July 19, 2022, https://www.washingtonpost.com/business/2022/07/19/gas-prices-inflation-ukraine/
[7] Ben Geman, "Democrats' Fragile Gas Price Reprieve," Axios, July 22, 2022, https://www.axios.com/2022/07/22/democrats-fragile-gas-price-reprieve
This blog reflects Chmura staff assessments and opinions with the information available at the time the blog was written.