The COVID-19 pandemic upended the global economy and ushered in a record number of new business applications in the United States. Between 2010 and 2019, new business formations grew an average of 4% each year, reaching a high of 10% in 2018 and then remaining unchanged in 2019 when compared with 2018 levels.[1] In contrast, new business applications jumped 24% in 2020 for the highest increase on record.[2] Applications continued to rise in 2021 at a slightly slower rate (23%).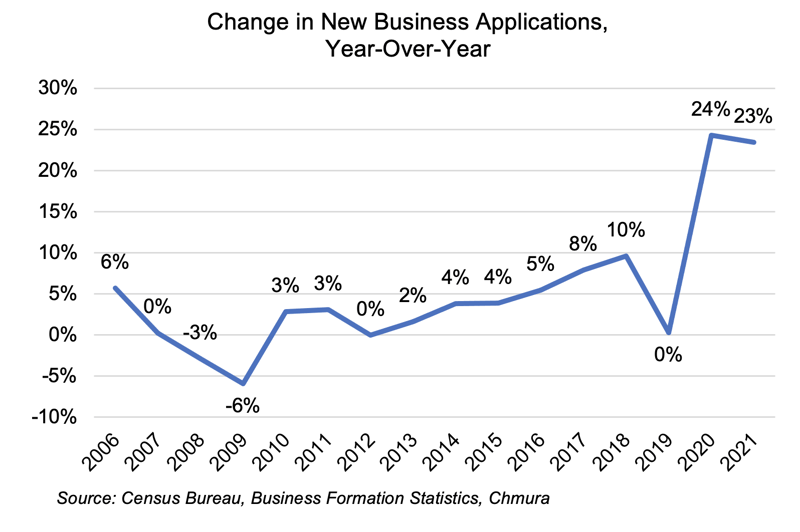 Business startups play an important role in driving job creation, advancing innovation, and growing productivity.[3] While much of the pandemic impact reporting has been focused on jobs lost and businesses closed due to the pandemic, a surge of new startups provides insight into the economic recovery and expansion post-pandemic. Unlike the decline in startups during the Great Recession from 2007 to 2009, the growth in new business applications support a more rapid restructuring of the economy to adapt to the pandemic and resume growth.
The growth in new business applications, and especially businesses with no employees, can be attributed to new ways to meet changing demand from consumers and businesses as well as the continued growth of gig work. At the 3-digit NAICS level, growth in 2020 new business applications was dominated by industries such as nonstore retailers; personal and laundry services; and professional, scientific, and technical services. The top ten list also reflects adaptation to the pandemic in industries such as truck transportation, food services and drinking places, and social assistance.[4]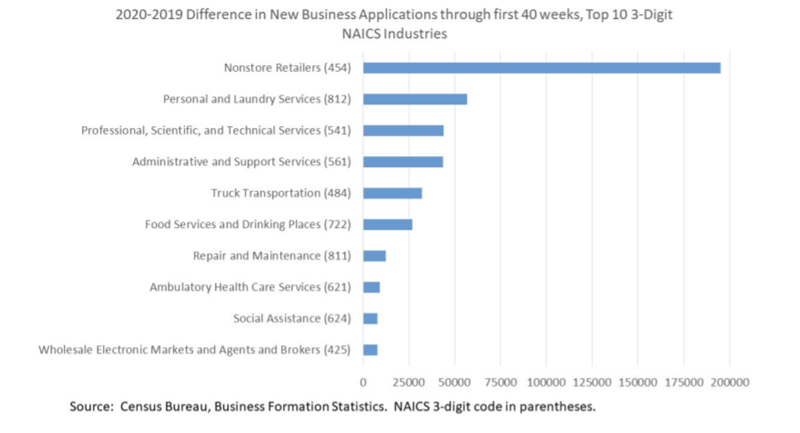 Business applications data at the state level reveal geographic differences. In March 2022, the greatest growth over the month in new applications was in North Dakota (up 15%) and Wyoming. Much of the center of the country and some of the East Coast also saw an increase; however, applications declined over the month in several states in the Midwest, Northeast, and West, led by an 8.3% decline in Illinois, 7.4% decline in New Hampshire, and 7.3% decline in Washington state.[5] Continued recovery from the economic impacts of the pandemic in these states may be slowed if new businesses are not rising to replace business closings.
[1] The slowdown between 2018 and 2019 may be partially attributed to difficulty finding workers in a low-unemployment environment. https://apnews.com/article/e7179fc8b9dc4399818f2038b75ec423.
[2] Business applications can be further broken out into applications from corporations, high-propensity business applications, and business applications with planned wages. We analyze total business applications in this blog.
[3] https://www.nber.org/papers/w28912
[4] Ibid.
[5] https://www.census.gov/econ/bfs/data.html, data are seasonally adjusted.
This blog reflects Chmura staff assessments and opinions with the information available at the time the blog was written.