The U.S. economy is being seriously disrupted by the COVID-19 outbreak. Chmura is here to keep you informed. Data are already indicating a slowing in hiring, especially in lower wage jobs in retail, food services, and hospitality.
Occupations with Declines
Comparing U.S. online job ad volume in the week of March 9-15, 2020 to the mix of ads seen in March 2019, a variety of occupations are experiencing a dramatic drop in new postings, notably those found in businesses affected by the coronavirus pandemic.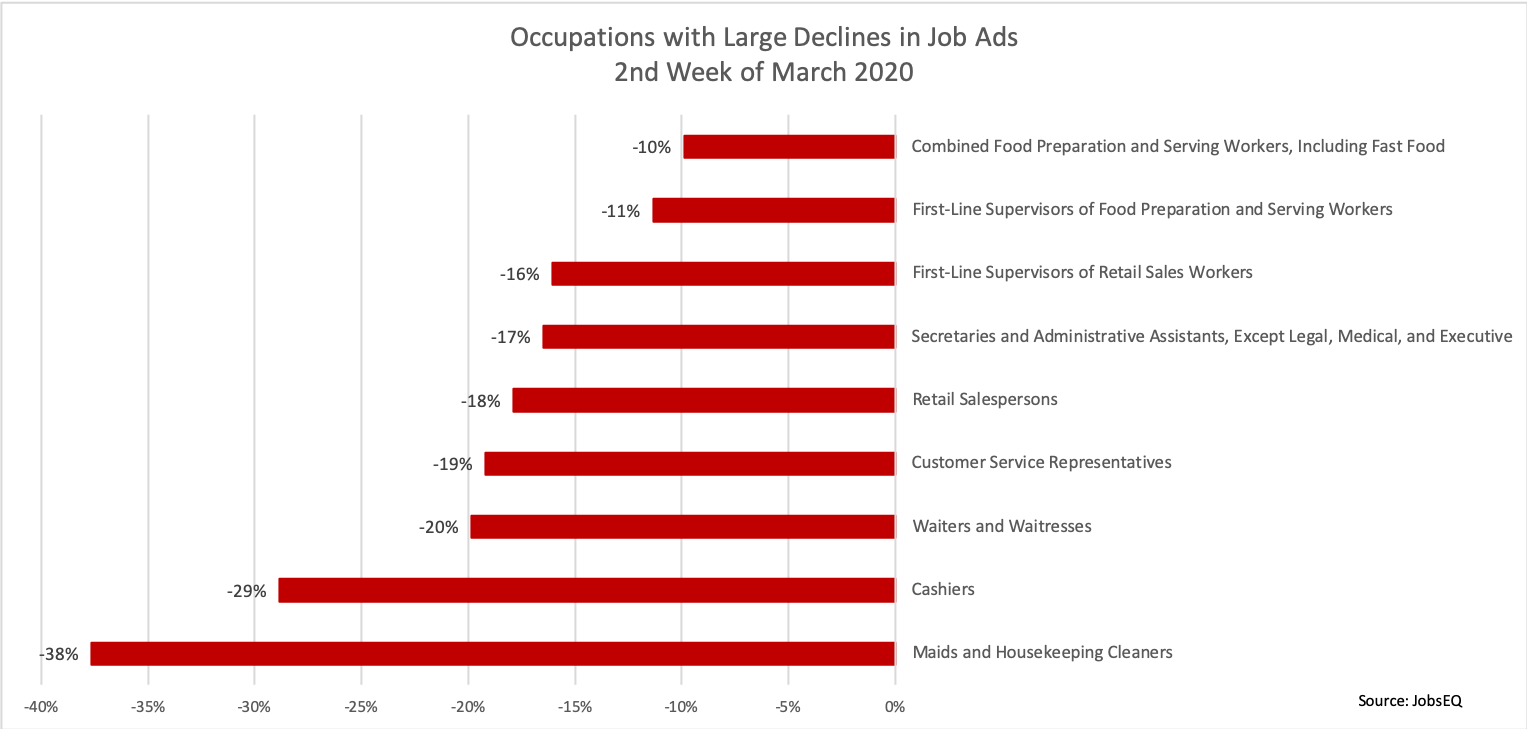 Some of the largest job ad declines were in food services: waiters and waitresses (-20%), first-line supervisors of food preparation and service workers (-11%), and combined food preparation and serving workers, including fast food (-10%). Retail related jobs were also hit hard: cashiers (-29%), customer service representatives (-19%), retail salespersons (-18%), and first-line supervisors of retail sales workers (-16%).
While looking at a single week of data is helpful for gauging a quickly changing economic ecosystem, some anomalies can occur as well. There was a steep decline in driver/sales workers (-44%), for example, but much of this does not appear related to the coronavirus. In March 2019, many ads were active from DoorDash, UberEats, and Instacart, a trend that dissipated prior to the 2020 coronavirus impact in the United States. Moreover, Amazon recently announced they would be hiring delivery workers to keep up with demand during the outbreak.
Other job trends, however, bear further watching. In the second week of March 2020, ads for Home Health Aides were down 38%. This is in contrast to other healthcare related occupations that generally posted increases during this period—including registered nurses, nursing assistants, and LPNs.
Hospitality in the nation is clearly being impacted by a drop in travel as well as convention business. In addition to the decline in maids and housekeeping cleaners (-38%), hotel, motel, and resort desk clerks also saw a sharp drop in job ads (-34%).
In other service jobs, demand for bartenders dropped dramatically (-46%) in the second week of March and ads for dishwashers were also less common (-17%).
About the Data
All data above are derived from JobsEQ, the Real-Time Intelligence online job ad data set, pulled from over 30,000 websites and updated daily. The second week of March 2020 is defined as ads that started between Monday, March 9 and Sunday, March 15, inclusive.
In order to calculate a rate of change, the percentage mix of jobs in the second week of March 2020 was compared to the percentage mix of jobs in all of March 2019 (a full month was used rather than a single week as a more stable comparison data set).
Many extraneous factors can affect short-term volume. Thus, while the changes noted above should be watched over time to confirm the impacts, such a short-term snapshot can offer an early indication of labor market shifts, especially valuable in this time of unprecedented economic disruption.

This blog reflects Chmura staff assessments and opinions with the information available at the time the blog was written.