After a short-lived upturn, job ads turned downward to end the month of April. Several occupation groups also posted lows in new ads since the beginning of the coronavirus outbreak.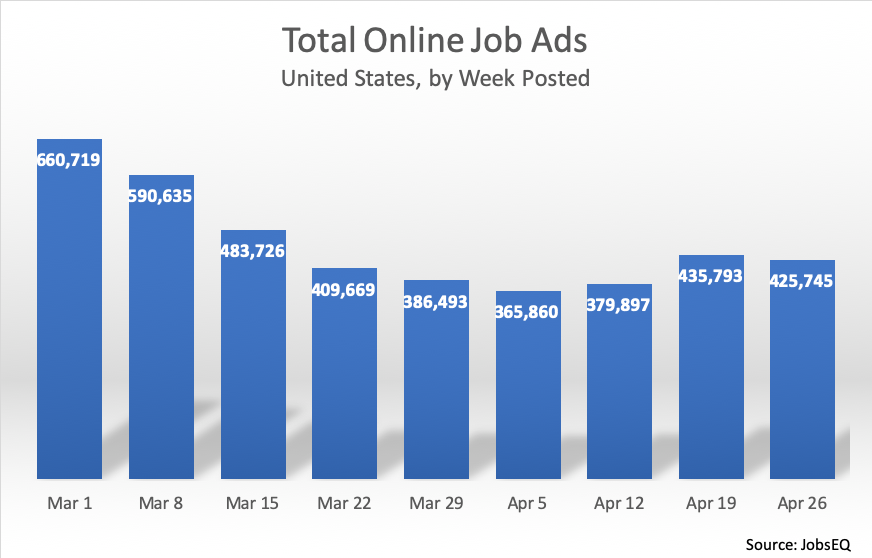 After two consecutive weeks of increases, online job ads slipped 2% in the fourth week of April compared to the preceding week. With new ad volume of 425,745 in the week of April 26, job posting activity was over a third lower than the 660,719 volume recorded in the beginning of March.
Variation in Demand by Occupation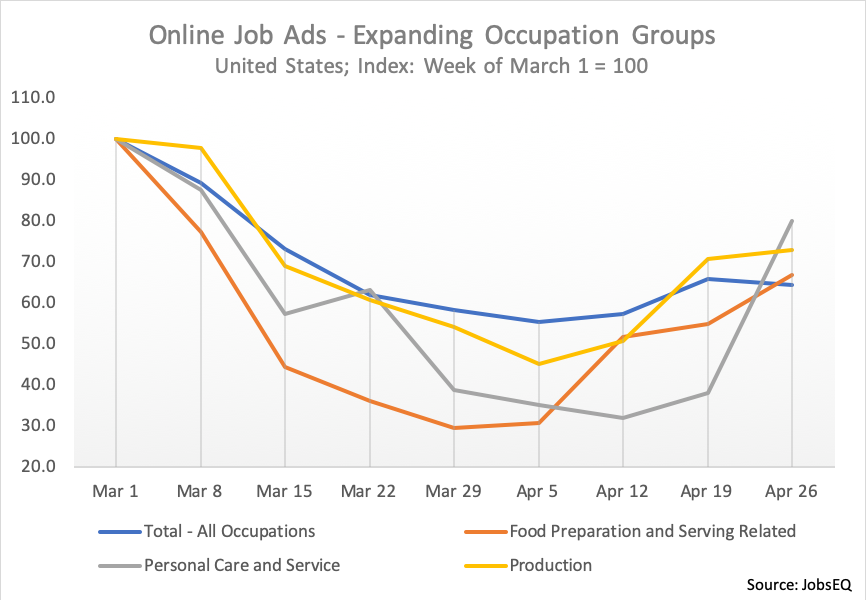 Despite the overall decrease this last week, several occupation groups posted their highest volume since early March. Continuing the trend from prior weeks, ads for food preparation and serving related jobs rose again in closing out April. The personal care and service occupation group (which includes hairdressers) had seen a deep decline but rose sharply this past week. Job ads for production workers closed the month with three consecutive weeks of increases.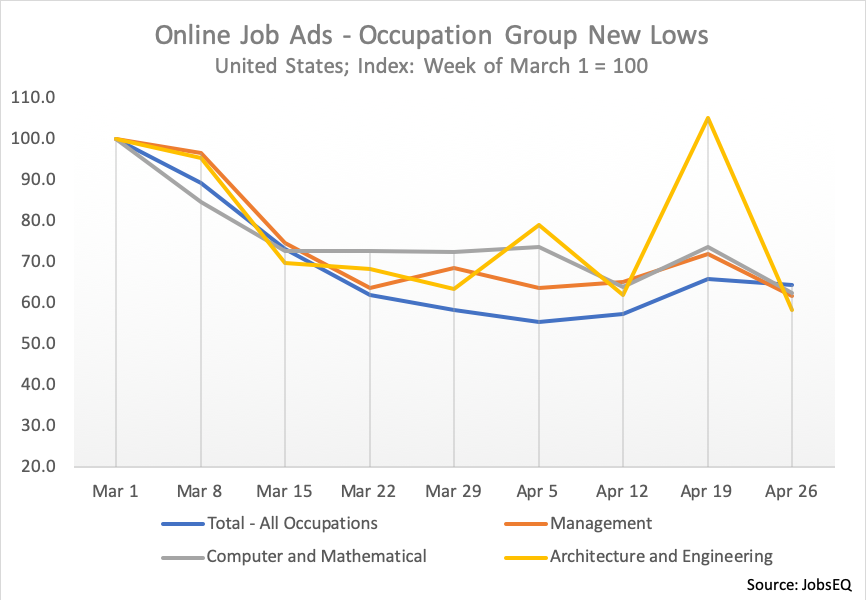 Not everything was heading up at the end of April, unfortunately. Several high-wage occupation groups that had been faring better than average reached new lows since the beginning of the coronavirus outbreak. Management occupations as well as computer and mathematical positions experienced a decline in new ads the week of April 26 after gains in the prior week. Architecture and engineering ads spiked in the week of April 19 only to drop to a new low the following week.
These trend reversals may be simple indicators of the volatile nature of these data, or they may be illustrations of the evolving nature of the economic impact of the pandemic. Regardless, the data will continue to bear watching as the U.S. economy moves toward a recovery phase.
About the Data
All data above are derived from JobsEQ, the Real-Time Intelligence online job ad data set, pulled from over 30,000 websites and updated daily. Historical volume is revised as additional data are made available and processed. Each week of ads is defined as new online ads that start between Sunday and the following Saturday, inclusive. All ad counts represent deduplicated figures. The relationship between ad counts and actual hires is described here.
Many extraneous factors can affect short-term volume of online job postings. Thus, while the changes noted above should be watched over time to confirm the impacts, such a short-term snapshot can offer an early indication of labor market shifts, especially valuable in this time of unprecedented economic disruption.

This blog reflects Chmura staff assessments and opinions with the information available at the time the blog was written.