"I can take any analytic in JobsEQ and find something that helps our schools and our students."
--Brock Kelley, Ph.D.
Director of Workforce Development
Alabama Department of Education and Alabama Community College System
Brock Kelley knows CTE. As a Director of Workforce Development for both the Alabama Department of Education and Alabama Community College System, he has focused on the expansion of opportunities for students to enter skilled trades. His experience with Career & Technical Education can help all CTE educators better serve their students.
Chmura is proud that JobsEQ data provide a foundation for his great work. "I can take any analytic in JobsEQ and find something that helps our schools and our students," said Kelley.
Kelley has used JobsEQ to help Alabama's schools comply with Perkins V requirements, tailor students' education to the regional economy, and strengthen ties between education and the major economic actors in the state.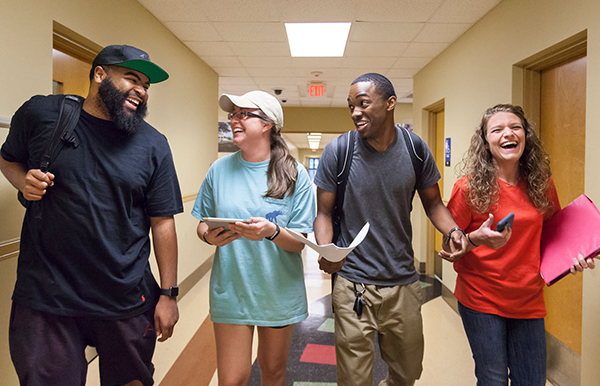 Students at Alabama Community College Systems.
Perkins V
The Strengthening Career and Technical Education for the 21st Century Act (Perkins V) creates a host of new federal requirements for schools. It demands that schools demonstrate that their Perkins funding is spent on programs that align to local labor market conditions and prepare students for high-wage, high-demand jobs.
Kelley understands that these new requirements require a tool to put the best labor data in the hands of Alabama educators. The Alabama Department of Education purchased JobsEQ licenses for every school district in the state, making JobsEQ the go-to source for Perkins-compliant labor market data. Now schools can use JobsEQ's Perkins V Report to provide all the labor market data necessary for Perkins or dig deeper with 30+ analytics that contain up-to-date occupation, industry, wage, demographic, job posting, and resume data. JobsEQ makes aligning your programs with local labor market conditions easy and significantly reduces the Perkins V burden.
Local Labor Market
You know that different regions of your state have unique economic strengths and weaknesses. State-level labor data obscures this diversity and is of limited use to schools who want to prepare students for success in their region.
JobsEQ lets you see labor market data at the metro area, county, and even zip code levels. Kelley helped CTE Directors and Coordinators create their own custom regions so that they could understand local labor market conditions. Analysis at the local level reveals previously unnoticed patterns and opportunities.
Kelley found that while manufacturing is an important industry throughout the state, different regions concentrate on different types of manufacturing. Schools using JobsEQ data could tailor their curriculum to more closely meet the specific needs of local manufacturers. JobsEQ showed that in one region of the state, marine engineering is a huge part of the local economy, so regional CTE programs adjusted their courses to prepare students for entry-level jobs in that sector.
Kelley also uses JobsEQ's What-If analytic to understand regional skill and occupation gaps that schools can address. When a company announces they are building a new facility in the area, What-If identifies which occupations the company will need—how many accountants, pipefitters, food service workers, etc. "We take that information to local schools and say, there are 300 jobs coming in, and these are where there are current labor shortages," Kelley says. "Now the schools know which jobs will be available to their students. Can their welding programs emphasize the specific type of welding the company will need?"
Partnerships with Business
Kelley believes JobsEQ helps educators form more lasting, meaningful partnerships with local business. JobsEQ lets Kelley approach businesses armed with data and ready to discuss how local educators can support them. Schools that are more informed partners and ready to assist with critical company needs are more likely to establish strong internship, externship, and apprenticeship opportunities, because the business understands the school is committed to producing workers with the skills it needs.
Such a dynamic played out in a Kelley-led partnership with a major automotive manufacturer located in Alabama. The company needed to know about the skilled labor pool within a certain drivetime of their facility. Kelley used JobsEQ's map analytic to create a custom region around the company's plant and identify skilled workers who, with a moderate amount of reskilling, could fill the company's needs.
Getting Students Good Jobs
The main goal of CTE is to ensure students can support themselves in fulfilling careers that encourage the economic growth of their region. To prepare students for the pathways most likely to lead to success, schools need great labor data that points the way towards such opportunities. If your school is ready to help more students succeed after graduation, Chmura is ready to help. Contact us to schedule your JobsEQ demo today.
This blog reflects Chmura staff assessments and opinions with the information available at the time the blog was written.