"JobsEQ is an essential tool. We love its interface, its graphics, and most importantly the integrity of its data."
--Mark Hays, Vice Chancellor of the Dallas County Community College District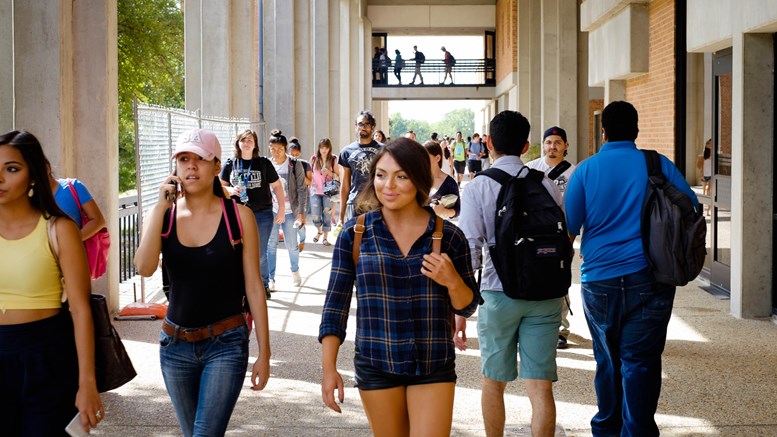 Abstract
Community colleges serve vulnerable student populations and often have critical economic development roles in their region. The Dallas County Community College District uses JobsEQ by Chmura for both.
JobsEQ lets DCCCD more easily connect with corporate, community, and educational partners. Labor data is the common language for these diverse stakeholders.
JobsEQ's labor market data helps DCCCD align its programs to high need, high wage jobs in the metropolitan area and even specific neighborhoods.
Dallas (TX) County Community College District has a tough job. It serves an overwhelmingly impoverished student population. Eighty-two percent of its students were on free- or reduced-price lunch in high school. Chancellor Joe D. May says that many area students believe that college is too expensive and therefore do not consider it. Even the students who enter DCCCD often lack a basic understanding of how much money they need to support themselves and their families into full adulthood.
Despite these challenges, DCCCD is wildly successful in preparing its students to land high-wage jobs after graduation and provides a critical economic boost to the greater Dallas region. At the 2019 Chmura Connect conference, Dr. May described how the labor data found in Chmura's JobsEQ helps DCCCD develop programs that meet the Dallas economy's needs and inspire collaboration between K-12 education, higher education, and the corporate sector.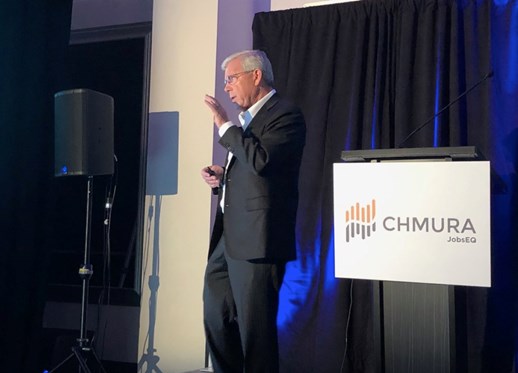 Dr. Joe May presenting at Chmura Connect 19.
Promoting Collaboration
Collaboration is at the heart of DCCCD's workforce strategy. "We cannot do this work alone," May says. "If you are trying to create it on your own to solve the problem, you're more than likely to fail." DCCCD has assembled an impressive list of over 75 corporate partners involved in its workforce initiatives including Amazon, AT&T, Microsoft, WellsFargo, and American Airlines. Corporate partners provide internships and apprenticeships that foster workforce skills and support DCCCD's efforts to engage local K-12 school divisions. DCCCD also uses JobsEQ's What-If analytic to support local economic development efforts. "We supply the data, then 6 months, 12 months, 18 months later, we find out a company is locating here or expanding operations," Vice Chancellor Mark Hays said. "It's a great feeling"
Labor data are the common language that helps DCCCD and its partners come together. JobsEQ identifies the staffing needs of the private sector so that DCCCD can design programs likely to win corporate support. Hays said, "Labor market data helps us start the conversation with corporate partners. They provide the human intelligence and confirm that the data matches what they see on the ground." For example, JobsEQ helped DCCCD identify that the Dallas area has a need for 6,800 new workers in computer and math fields, with an average entry salary of over $56,000.Armed with this information, DCCCD crafted programs to fill the need that found enthusiastic private sector support.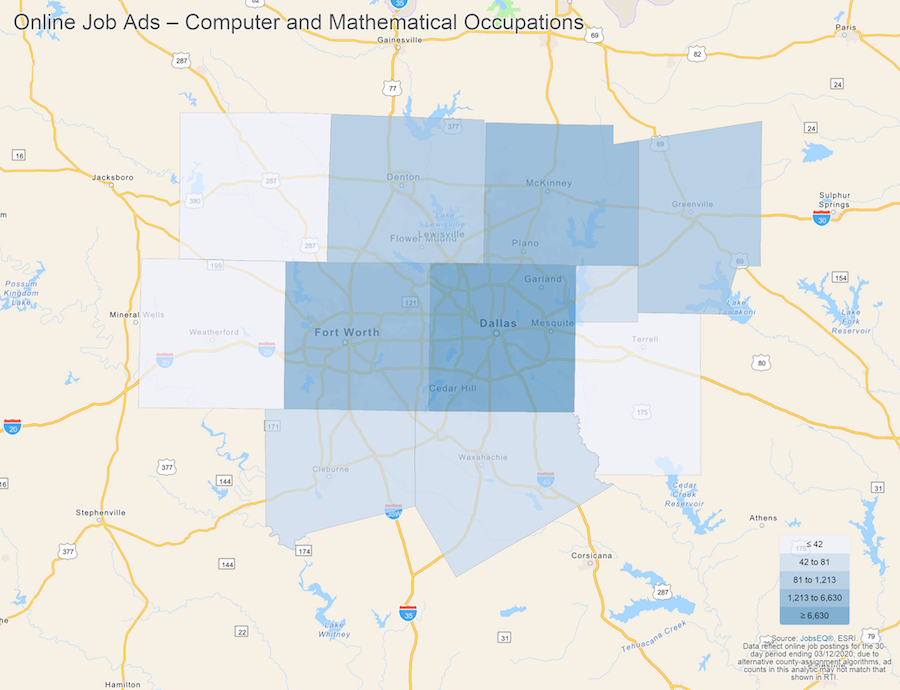 Source: JobsEQ by Chmura.
K-12 Partnerships
DCCCD also partners with 43 K-12 school divisions throughout the Dallas region. Its success with Pathways in Technology Early College High Schools (P-Tech) is particularly noteworthy. P-Techs bring 9thgrade students into career-focused programs and allows them to earn an associate degree or up to 60 college credit hours in a STEM-related field while still in high school. To know which P-Tech programs to support, DCCCD needs accurate projections of the jobs that will be available when students graduate high school. They rely on the blue-chip economic forecasts found in JobsEQ to understand which proposed P-Techs align with the workforce needs of tomorrow and prepare students for high-demand, high-wage careers.
DCCCD's involvement has played a critical role in the turnaround of Samuell High School. With 99% of its students classified as economically disadvantaged, Samuell has one of the biggest educational challenges in all of Dallas. Prior to DCCCD's partnership, only 70% of students graduated high school, and only 9% went on to earn a postsecondary credential. DCCCD used JobsEQ data to identify the most in-demand jobs in the neighborhoods Samuell serves and collaborated with the school and local corporations to develop early college high schools very similar to the P-Techs described above. DCCCD's involvement helped boost Samuell students' academic achievement significantly. Today, 93% of Samuell students graduate high school, and 58% go on to earn a postsecondary credential.
Program Alignment
DCCCD uses JobsEQ job posting, occupation, and wage data to ensure its own programs are aligned to the workforce needs of today and tomorrow. JobsEQ links academic programs to future occupations so DCCCD can understand which programs lead to good career outcomes. JobsEQ showed DCCCD that certain popular programs did not prepare student for living wage jobs. With this knowledge, they could encourage employers to raise wages and add high-demand workplace skills to these programs, so that graduates have the option to acquire related, higher paying jobs.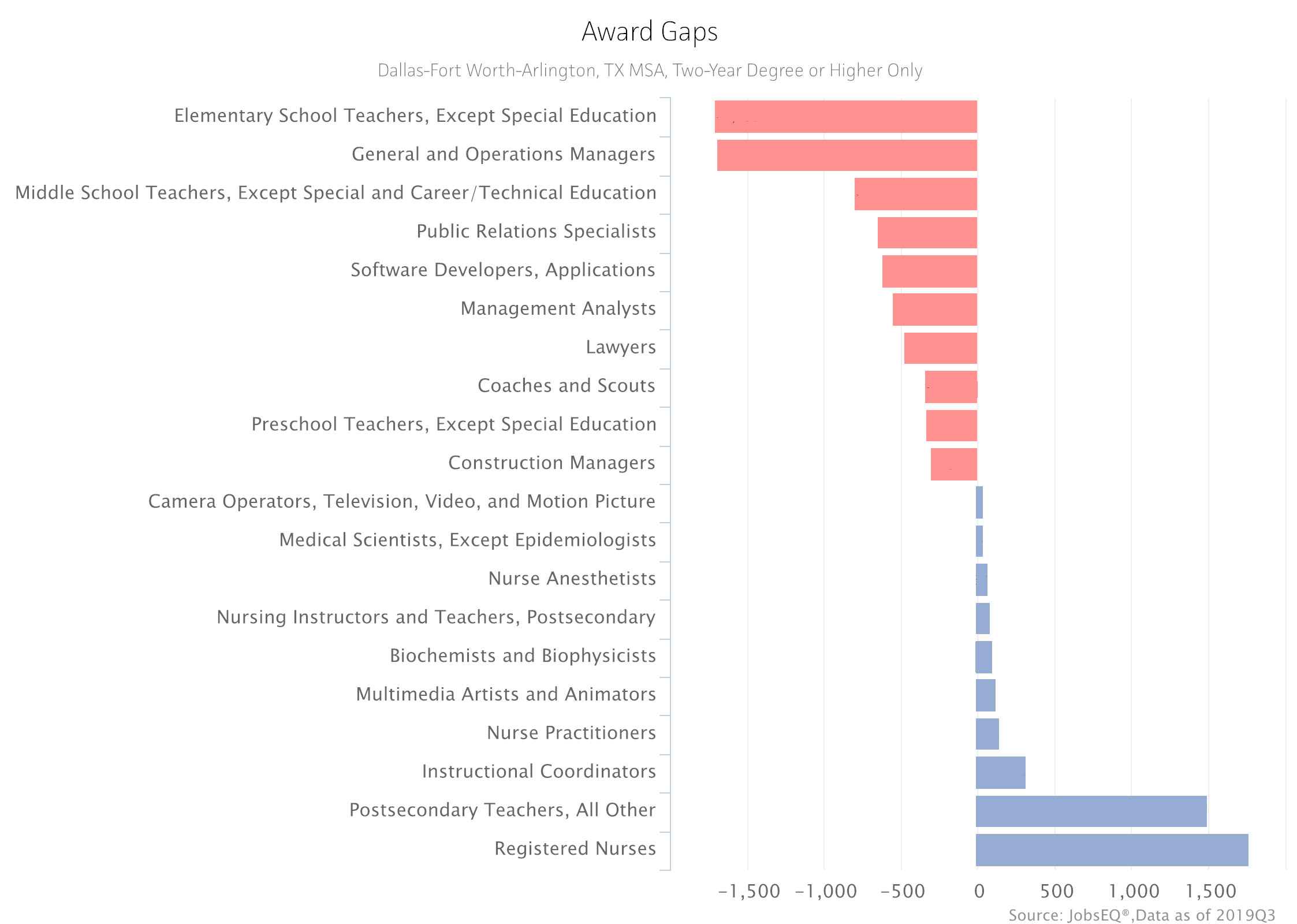 The "Award Gaps" analytic in JobsEQ helps schools align their programs to local workforce needs. Source: JobsEQ by Chmura.
DCCCD promotes new programs that offer credentials in high-growth occupations critical to the Dallas MSA's success, or even to subregions within the Dallas area. DCCCD used JobsEQ's custom regions to discover that the Vickery Meadow neighborhood, located in northeast Dallas, had a large population of renters. Not surprisingly, Vickery Meadow also had a lot of job openings for apartment managers. Because of these insights, DCCCD has begun talks to bring an apartment management program to the DCCCD campus that serves the area.
JobsEQ also helps schools avoid mistakes. Dr. May cited a case in which advocates wanted DCCCD to start a Zoo Science program. Using earnings data, DCCCD found that the average wages for nonfarm animal caretakers professionals were well below a living wage. More job openings existed for zoo parking lot and garage attendants than for actual zoo science workers. Labor data saved DCCCD from starting a program that would encourage students into careers that would not provide for their future
Towards a Better Dallas
Chmura is proud that JobsEQ plays such an instrumental role in DCCCD's efforts to make Dallas and its young people more prosperous. "JobsEQ is an essential tool," Hays says. "We love its interface, its graphics, and most importantly the integrity of its data."
If your school wants to help grow your region's economy and secure better outcomes for your students, Chmura would be honored to be your partner.

This blog reflects Chmura staff assessments and opinions with the information available at the time the blog was written.