Efforts to improve the economy are fractured in a lot of regions. A workforce board starts one program, the economic development board starts a competing one, and the local community college is training students for jobs that are leaving the area. Everyone has their own source of information, and the collaboration necessary for strong economic development does not occur.
It's not like that in Spokane.
Spokane is the economic hub of Eastern Washington, and the Spokane Area Workforce Development Council (Spokane WDC) is a key contributor to the region's vitality. CEO Mark Mattke describes Spokane WDC's role in encouraging collaboration among regional economic actors, helping companies find the skilled labor they need, and connecting job seekers to positions that best utilize their abilities. Mattke believes that many jobs lost to COVID-19 will not come back, making their work even more difficult and important.
Chmura is proud that JobsEQ supports Spokane WDC and our other workforce partners. "JobsEQ helps us fill in the gaps in traditional labor data and drill down further to get the answers we need," says Analyst Michael McBride. In a recent conversation, Mattke and McBride described how JobsEQ helps them form strong partnerships with local business, community, and school leaders and target services to the populations most likely to benefit from them.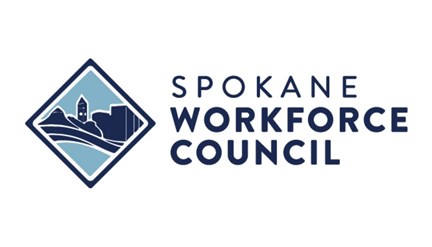 A Stronger, More Unified Community
JobsEQ is a key part of Spokane WDC's ability to foster unity among the region's diverse economic actors. Each week, Spokane WDC produces a newsletter for various business, community, and workforce professionals. JobsEQ data and visualizations are a regular part of these newsletters to help educate readers in the region's key economic trends. This information helps develop a common language and a shared understanding of the economic opportunities available, both of which make collaboration more targeted and meaningful.
Partners value Spokane WDC's data highly enough that they have started to reach out for JobsEQ information of their own. Mattke reports that local employers frequently request industry, labor, and wage data. "When an employer realizes their wages for a certain position are in the 10th percentile, they understand why they have not been able to hold on to good people in that position." Employers with accurate wage information can better recruit and retain qualified candidates. Employers also request JobsEQ occupation data to write more accurate job descriptions that lead to great recruitment success.
JobsEQ has also allowed Spokane WDC to be a strong partner to local community colleges. McBride has worked tirelessly with local schools to embed labor-market information into the evaluation of local career and technical education (CTE) programs. In many cases, local educators had not used LMI in the evaluation of CTE programs and did not know whether their programs led to in-demand occupations. Now, Spokane's schools can ensure they adapt CTE programs to lead to high-demand, high-wage jobs and infuse their curriculum with skills that will give students a leg up in the job market.
Getting Services to the Right People
Like most workforce boards, Spokane WDC needs to get the most out of limited funds. One way they can be more efficient and cost effective is by targeting services to certain clients or potential clients, a task made easier by JobsEQ's mapping features. JobsEQ lets Spokane visualize the geographic concentration of unemployment, occupations, and skill gaps down to the zip-code level. Spokane WDC can then develop specific trainings and programs that serve the needs of specific communities and locate them closest to the people who will most benefit.
Like most workforce organizations, a large part of the services Spokane WDC provides are dedicated to skills work, including upskilling, reskilling, and helping the unemployed consider new jobs that require similar skill sets to their own. JobsEQ's Willing and Able analytic allows job seekers to quickly see which jobs require similar skill sets to their last position and workforce professionals to understand which skills individual job seekers need to quickly get back to work. JobsEQ occupation and resume data let workforce professionals see the skills associated with each occupation and to identify skills gaps in the current workforce, so that workforce boards can identify training opportunities that are likely to get people back to work quickly.
The Road to Recovery
The COVID-19 pandemic has wreaked havoc on both the global and domestic economies. Many businesses have closed, and unemployment has reached levels not seen since the Great Depression. In these unprecedented times, workforce professionals' mission has never been more important. Workforce will be on the frontline of the recovery, helping displaced workers connect with the companies that are rehiring and propelling economic growth throughout the nation. Groups like the Spokane WDC will help their regions recover, and Chmura is pleased that JobsEQ can be a part of their efforts.

This blog reflects Chmura staff assessments and opinions with the information available at the time the blog was written.